What comes to your mind when you picture "Bora Bora"? For many travelers, a trip to this idyllic island in the South Pacific is merely a fantasy. Images of dreamy honeymoons and luxurious vacations stay just out of reach. Although Bora Bora can certainly be extravagant, long gone are the days of strictly luxury trips. When searching for Bora Bora prices, you may be surprised to find more affordable options, meaning that even the most frugal can enjoy this beautiful island while strolling white-sand beaches and sipping drinks poolside.
Typical Bora Bora Vacations or Honeymoons
When planning a trip or a honeymoon to Bora Bora, travelers can choose various vacation types that fit within their budget or expectations. Although there will always be a luxury option for Bora Bora vacations, you don't have to be that wealthy to afford a South Pacific dream trip. Those who wish to live the chic life will find incredible resorts, great restaurants, and exciting activities. However, there are also plenty of options for mid-range and budget travelers.
So, what does a typical Bora Bora vacation or honeymoon price? In this article, we'll explore three types of trips: luxury, mid-range, and budget. Learn more about Bora Bora prices, what each category provides, and discover the cost of a trip / honeymoon to Bora Bora.
Luxury: Bora Bora honeymoons/vacations are known for their high level of extravagance. Travel outfitters love to highlight luxury overwater bungalows at opulent hotels, Michelin-star chefs creating innovative treats, and exciting activities like a private lagoon and seaplane tour. If you're in the market for a truly unique and elegant vacation/honeymoon, the turquoise waters of Bora Bora are challenging to beat.


Mid-range: Although splurging on a trip to Bora Bora would make for a fantastic vacation, you can still enjoy the pristine beauty of this island without breaking the bank. There are plenty of mid-range accommodations and eateries that give travelers the experience of typical Bora Bora vacations while maintaining a budget.


Budget: Believe it or not, you can enjoy an unforgettable trip to Bora Bora as a budget traveler. Many people think that affordable vacations in the South Pacific don't exist. Still, with such a significant range in Bora Bora prices, you'll find numerous options and easily cut costs on hotels, restaurants, and activities.
Bora Bora Prices: Flights
When determining the price of Bora Bora vacations/honeymoons, it's best to start with flight prices. Because Bora Bora is in the South Pacific Ocean, it typically requires longer flights and, most likely, more than one layover to get there. Because of these requirements, the prices of flights can increase your overall Bora Bora vacation/honeymoon cost.
The price of flights will fluctuate depending on your departure point. Nearly all flights require two layovers, typically in San Francisco or LA, and again in Tahiti. Because the flights tend to be lengthy, those seeking luxury holidays may prefer Business or First Class, which will cost far more than an Economy Class ticket. Below you'll find price ranges for popular regional routes.

Please note that all information below refers to the situation before COVID. As I'm writing these lines (early 2021) some of the routes are still closed. When back to normal some flight routes may change.
Flights from North America to Bora Bora
Those traveling from North America will need to make their way to a west coast city. Even if you're starting in large hubs like New York City or Vancouver, Canada, you'll most likely connect in San Francisco or Los Angeles. You can check our detailed article about how to get to Bora Bora from the USA.
Cost: Flights range between $800 to $5,000 for Economy Class and $7,000 to $10,000 for Business Class or First Class.


Layovers: Most North American flights require one or two layovers to reach Tahiti, then another leg to Bora Bora. All flights from San Francisco, LA, or Hawaii to Tahiti are direct.


Length: Flights can range from 10 to 50+ hours of travel time. Shorter trips originate in San Francisco or LA with direct flights to Tahiti and require no overnight layovers.

Flights from Europe to Bora Bora
European flights are similar to those from North America; you'll need to connect in San Francisco or LA. Even if you're starting in Eastern Europe, such as in Istanbul, flights make their way across the globe and to Bora Bora via the United States' west coast.
Cost: Flights range between $1,500 to $3,000 for Economy Class and $4,000 to $10,000 for Business Class or First Class.


Layovers: Most flights from Europe will require two layovers to reach Tahiti and then one more leg to Bora Bora. If flying from London, most flights require just one layover in San Francisco or LA in addition to the layover in Tahiti.


Length: Flights can range from 23 to 50+ hours of travel time. You can shorten the time by avoiding overnight layovers.
Flights from Asia & New Zealand to Bora Bora
Travelers from Asia or Oceania can enjoy direct flights from Tokyo, Japan, and Auckland, New Zealand. Those flying outside of those hubs will require one or two layovers.
Cost: From most Asian hubs, flights range between $5,000 to $10,000 for Economy Class and $14,000 to $20,000 for Business Class or First Class. From Australia or New Zealand, flights range from $800 to $1,500 for Economy and up to $5,000 for Business Class.


Layovers: Flights from Tokyo and Auckland are direct. Routes from Australia require one layover, while those from most other Asian cities need one or more layovers.


Length: Direct flights from Auckland are about seven hours, whereas Tokyo flights are closer to 12 hours. Flights originating in other Asian cities range from 15-30+ hours of travel time depending on the route and any overnight layovers.
Flights from Tahiti to Bora Bora
Once in Tahiti, you'll have one last quick flight to reach Bora Bora. Air Tahiti is the only company that operates inter-island flights in French Polynesia. One class only, so everyone gets to seat wherever they want on the plane.
INSIDER TIP: When boarding in Tahiti make sure to sit on the LEFT side of the plane for the best Bora Bora views before landing!
Cost: Expect the cost to be around 400$ for a round trip.


Layovers: There are flights from Tahiti to Bora Bora all day long. 50% of them directs. The other 50% may do quick stops (no more than 15 minutes) in other islands nearby Bora Bora. You won't have to step off the plane.


Length: 45 minutes for directs flights. Up to 2H if layovers are scheduled.
Bora Bora Prices: Accommodation
Another substantial expense to consider when planning a Bora Bora vacation/honeymoon is the price of accommodation. Because luxury trips are aplenty on this gorgeous island, you'll find several lavish hotels and resorts dripping with elegance. However, those seeking mid-range and budget vacations will also discover a variety of comfortable options. Perhaps you won't sleep above the lagoon, but you'll undoubtedly be within walking distance.
Luxury Hotels & Resorts
Luxury hotels and resorts in Bora Bora are just as you imagine: long wooden boardwalks reach out into shallow, turquoise waters with bungalows featuring private decks, pools, and lagoon or mountain views. Many offer several dining options, lounges, bars, and spas. It's no wonder the island is a favorite amongst the wealthy and celebrities.

Tips: The most popular luxury resorts in Bora Bora are The Four Seasons, The St. Regis, Conrad, and InterContinental's Thalasso Resort. Suites within the property's main complex (at the Conrad for example) or garden villas can cost as little as $700 per night, while private villas or apartments with pools and lagoon views can reach up to $5,000+.
Rooms: Standard, Suite, Private Villas, Overwater Bungalows
Average Cost: $700 - $10,000+ per night
Mid-range Hotels
Bora Bora prices can fluctuate once you start searching for accommodation. Sure, if you're ready to spend over $1,000 per night on a stylish private villa over the water, you should totally do it! But for those on a budget, there are plenty of nice properties at a fraction of the cost. As a bonus, you don't need to compromise that much. Bora Bora is an island oasis, meaning that many hotels, even the affordable varieties, offer lagoonside properties with water views and amenities.

Tips: Many believe that staying at a beachfront hotel costs a lot of money, but that's not necessarily true for Bora Bora. You can find great value with 3-star hotels, which are an excellent compromise between luxury and budget. Take Maitai Bora Bora and Royal Bora Bora as examples. Both sit on beaches with ocean views and cost around $250+ per night (for the first category of rooms). Or, splurge a bit more with Intercontinental's Le Moana resort, which gives you luxury vibes but lower prices than some of the 4- or 5-star properties (rooms are $500+). Hotels like Oa Oa Lodge and Sunset Hill Lodge offer rooms for $100+, some of which sit above the water.
Rooms: Standard, Apartments, Overwater Bungalows
Cost: $150 - $300+ per night
Budget Accommodation
Those willing to sacrifice lagoon views can find decent hotels, guesthouses, and family pensions under $100 per night, even as low as $50. You might not wake up to the sound of waves, but no one is ever too far from the beach in Bora Bora! However, some 1- and 2-star accommodations still offer beachside properties.

Tips: As an alternative to traditional accommodation, travelers can find entire houses and condos, as well as shared rooms in apartments or hostel-like properties, on websites like Airbnb and Booking. By renting apartments, shared rooms, or family pensions, you'll most likely mingle with more locals and experience the culture of Bora Bora.
Rooms: Standard, Shared Rooms, Condos, Apartments
Cost: $40 - $100 per night
Bora Bora Prices: Food & Activities
No Bora Bora vacation/honeymoon would be complete without exploring food and activities. If you're wondering how much is a trip to Bora Bora, you must go beyond flights and accommodations and consider other expenses. Bora Bora is an excellent location to splurge, but the island also offers affordable meals and activities.
Cost of food in Bora Bora
What you eat while on vacation/honeymoon is very important and plays an essential role in making a trip genuinely remarkable. In Bora Bora, there are plenty of high-end restaurants that offer delicious and innovative meals. At the same time, you can find local snack bars, casual dining, and grocery stores that lower your food costs.
High-End Eateries
If you're staying at a resort, it's possible to opt for a meal plan. This option is great if you'd rather not spend time looking for restaurants or leave your accommodation while paying for a shuttle to reach the central part of the island. Keep in mind, though, that the cost will be high, and resorts often add surcharges when ordering off the standard set menu. However, resort meal plans are better deals than ordering 'a la carte' from the menu.
As an alternative, you can try some of the high-end eateries in Bora Bora, such as Lagoon Restaurant at The St. Regis, Le Corail at the Intercontinental Bora Bora Resort or La Villa Mahana (on the main island).
Options: Lagoon Restaurant (St Régis), Le Corail (Intercontinental Thalasso), La Villa Mahana.
Cost: $40 - $100 per course
Mid-range Eateries
To save money in Bora Bora and still eat well, you can find a handful of mainland eateries with mid-range prices. However, keep in mind that casual dining isn't prevalent in Bora Bora because there are so many high-end hotels and resorts. As a result, mid-range meals will still cost you around $40 or more / per personn.
Options: Aloe Cafe (for a nice breakfast), Bora Bora Beach Club (for lunch), St James (for dinner).
Cost: $25+ per dish
Budget Eateries
To truly keep your food expenses low, stick to food stands, pizzerias, and snack bars, which you can find in the center, close to Matira beach or on the roadside. Some of these budget eateries (and some of the more expensive cafes and restaurants) offer special prices for Happy Hour, which can turn a splurge into a steal! Grocery stores are another alternative, and you can make your own meals at your accommodation or at least stock up on snacks.
Another favorite amongst locals and budget travelers is Bora Bora's food truck scene. You'll find most of these 'roulottes' - as the locals call them - in Vaitape near the waterfront, where you can enjoy an array of different cuisines, huge portions, and very reasonable prices for Bora Bora. Don't forget to bring cash (but an ATM machine is available right next to the place, just in case...).
Options: St James Bakery, Snack Matira, Snack Otoamana (Chez Mamie), Food Trucks, Happy Hours
Cost: $12+ per course
Cost of activities in Bora Bora
As an island in the South Pacific with a famed barrier reef, entertainment in Bora Bora is nearly endless. Travelers can participate in luxe private tours like sailing, snorkeling, helicopter rides, skydiving, and more. It's best for those seeking more affordable entertainment to look for group options of the same activities, which lowers the cost.

Private Activities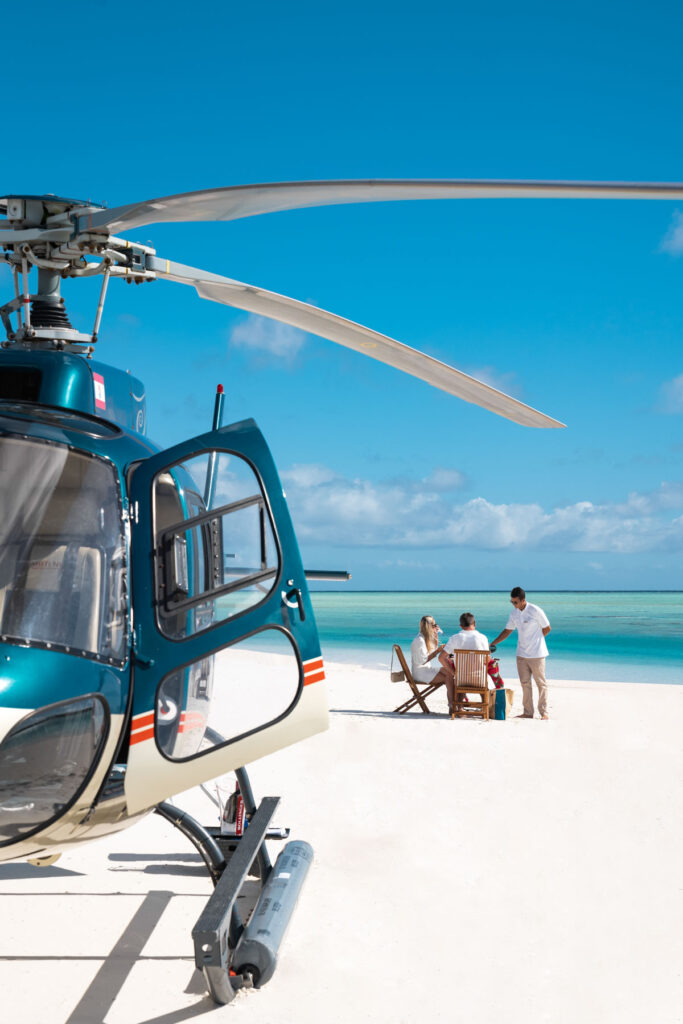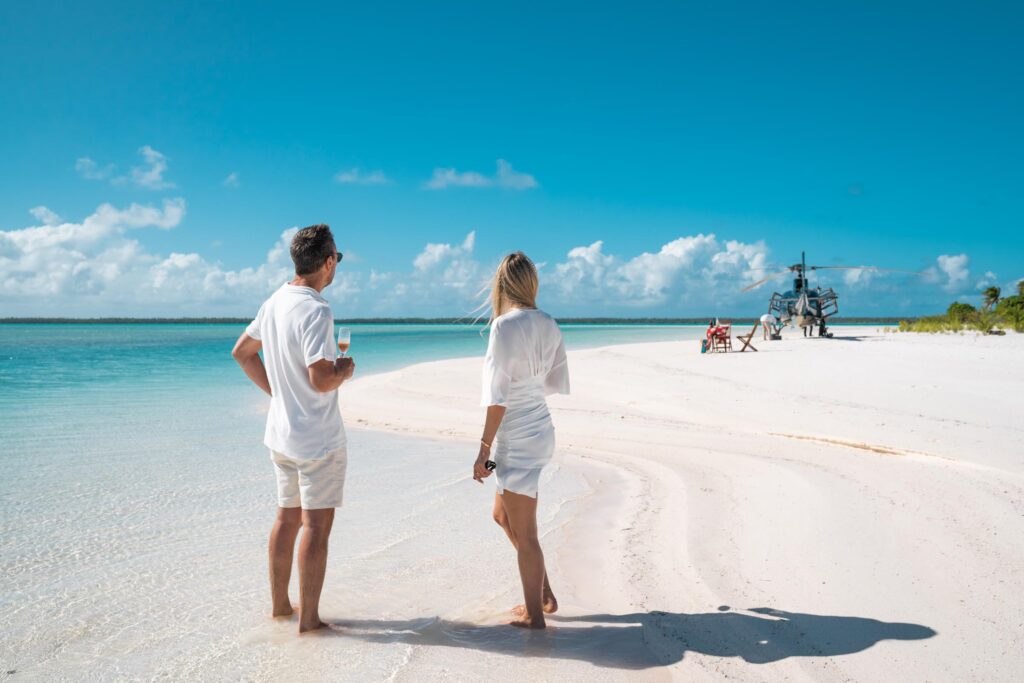 Water activities highlight the beauty of Bora Bora, so private sailboat, catamaran, or yacht tours of the reef and lagoon are the go-to adventure. These tours often include meals or other activities like swimming and snorkeling.
Private lagoon tours: $200 - $900+
Private snorkeling tours: $300+
Private whale watching: $900+
Private seaplane tours: $1,000+
Private helicopter tour : $1,000+
Private photoshoot in your resort: $400+
Group Activities
The best way to cut your Bora Bora vacation cost down is by opting for group tours rather than private tours. If you're on a lower budget, perhaps you can only partake in one or two group activities. Don't forget that most accommodations offer some amenities. At the very least, you may have beach access and can enjoy swimming, sunbathing, and snorkeling at little to no extra cost.
Group lagoon tours: $80+
Group snorkeling tours: $100+
Group whale watching: $150+
Group jetski tours: $100+
Cost of a photographer in Bora Bora
The price for hiring a professional photographer in Bora Bora varies between 450$ & 600$ an hour. You can check our complete article about this topic here.
How Much is a Trip/Honeymoon to Bora Bora?
So, how much is a trip to Bora Bora? Let's look at a 5-night vacation under each category: luxury, mid-range, and budget. Below you'll find the minimum cost per couple (meaning an accumulation of all the lowest-priced options for each type) for all three trip styles. They include return flights, accommodation, food, and activities. Remember that each trip could be more expensive if you expand your options.
As you will see, luxury trips are still quite expensive. But if you're looking for mid-range or budget trips, you can cut your costs significantly while still enjoying the perks of Bora Bora, like beachfront properties and water activities.

Luxury $$$
---
Includes:
Business Class flight from North America
5 nights at a resort in an overwater bungalow with a pool or a private villa
Ten high-end meals
Five private activities
---
Cost → $26,000+

Mid-range $$
---
Includes:
Economy flight from North America
5 nights at a beachfront hotel in a standard room
Ten casual meals
One private activity and two group activities
---
Cost → $7,000+

Budget $
---
Includes:
Economy flight from North America
5 nights at a condo rental
Five casual meals + grocery allowance
One group activity

---
Cost → $2,500+
We hope this article will help you plan and budget your dream trip to Bora Bora 🙂