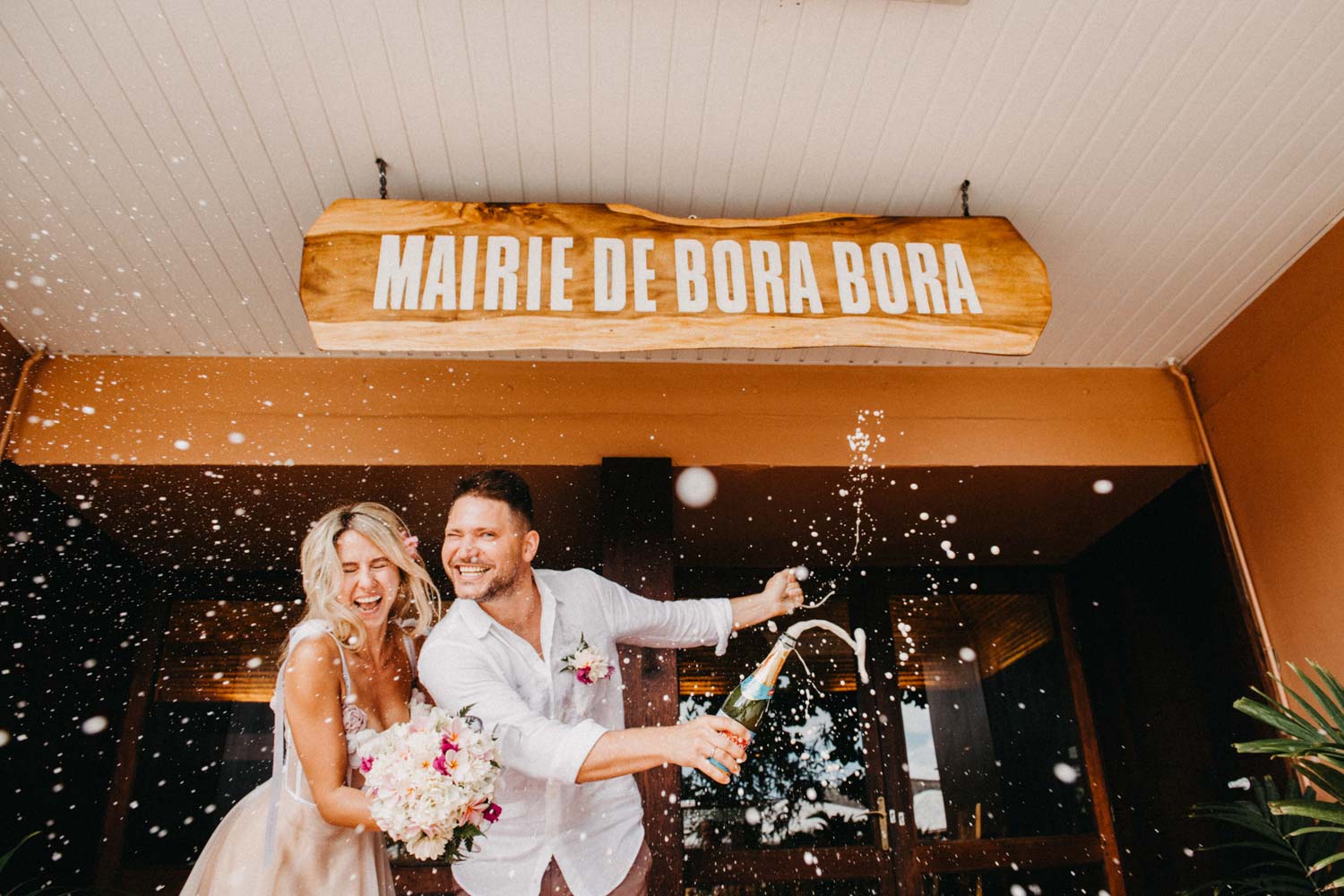 We know that planning a civil wedding when you are not on-site can be a challenge. This is why we share with you this article (which is not very funny to read, sorry) but which has the merit of providing you with useful information on the organization of your civil wedding in Bora Bora or anywhere else in French Polynesia. Everything you need to know can be found below, remember to take notes 😉
This article will help you to prepare your legal wedding in Bora Bora.
First things you need to know if you wish to get legally married in Bora Bora.
So you want to get married in Bora Bora? Here is everything you need to know about the French law.
The first thing you need to know (and we are unfortunately sure that this will make some people disappointed): If you are a French and live on a French territory, you won't be able to make a civil wedding in Bora Bora. But don't worry, you can still organize a traditional Polynesian ceremony 🙂

For all non-French people, you can keep up your reading;)

Both parties need to be at least 18 years old to get married in Bora Bora. Also, the law requires that these people should not be already married and to ensure that there is no direct family relationship between them. Then they both have to be present because the marriage cannot take place if one of the two parties involved is not present. It is also necessary to consider having at least one witness for your marriage and the latter must be of age (18 years old).

In Bora Bora, each ceremony is held in French, so it will be important to consider hiring an interpreter if the couple needs a translation to be able to answer the mayor's questions.

Also, remember to check your dates carefully. It is not possible to get married on a Sunday in French Polynesia or on the national holiday.
Are you eligible for a legal wedding in Bora Bora?
You must be at least 18 years old
Not already engaged in another marriage
Be of the opposite sex (Sorry, more progress needs to be made on this side…)
Not having any family relationship.
Special case 1: the person was not born in his/her country of residence but became a citizen of the latter. In that case, can he/she still get married in Bora Bora?

This is possible but you will need a birth certificate from your country of origin and an apostil to underline the authenticity of the proof. It is possible to obtain these documents by contacting the administrative services of your birth country.
Special case 2: What to do in case of divorced people?

It is possible to remarry after a divorce but the divorce must be finalized before you can consider remarrying. You will, therefore, have to submit the divorce documents to the lawyer to complete your application.




What are the required documents for a legal wedding in Bora Bora?
Several papers are required for your wedding in Bora Bora. For example, an identity document is essential, like a birth certificate, and an information document on the status of both spouses (married or not). These documents must be presented in French and dated at least 6 months before the marriage with an apostil*. The marriage cannot be pronounced without these documents.

If necessary, it is also useful to provide a death certificate or documents proving a divorce (also translated into French).

To organize your wedding, it will be necessary to write a letter of intent to the mayor of Bora Bora (or the municipality of your choice) so that he can provide you with a marriage document in French Polynesia for foreign residents. This can be done by the couple or by a wedding planner in Bora Bora. When all the documents have been collected, translated and authenticated, they must be returned to the Vaitape Town Hall at least 45 days before the wedding. Once this process has been completed, you will receive confirmation of the date and time of your wedding ceremony.
The banns will then be published to officially declare your union.

On the wedding day, you will have to go to the mayor's office at the time of the appointment with your witnesses and guests. At the end of the ceremony, the mayor will provide official documents proving the union of the newlyweds. The couple will then have to send these French documents to their country of residence to formalize their marriage.

What needs to be translated into French?
Your civil marriage in Bora Bora will only be possible if you take the time to translate the right documents. You will therefore be in charge of certified copies of your birth certificates, apostilles, civil status certificate, and prenuptial contract if you have one (i.e. everything ;)).


List of the documents you need to provide to the town hall of Bora Bora at least 45 days before the legal wedding:
A certified copy of the birth certificate of both spouses.
The apostil* to authenticate the copy of the birth certificate
The completed marriage form for foreign residents in French Polynesia
A letter to the mayor of Vaitape (the municipality) for your wedding.
The personal information certificate
A copy of the passport of both spouses
The spouses' residence certificate
If necessary, a prenuptial contract
*Definition of the Apostil:
It is an internationally recognized document to certify that a document is authentic.



Other questions about legal wedding in Bora Bora.
Is there a minimum length of stay to consider before getting legally married in Bora Bora or other Islands?
No, this is not a necessity. Since 2009, every couple has the right to get married in French Polynesia as soon as they arrive in the country.
What is the cost of a legal wedding in Bora Bora?
It should be taken into account that the costs of the marriage will be covered from the country of residence before arriving in Bora Bora. The cost is considered to be between $330 and $700 for the preparation, translation, authentication and sending of documents + the cost of the interpreter on site.
How long does the process take?
It takes about 3 to 5 months to prepare, translate, and authenticate all official documents but also to find a date for the wedding day. The wedding ceremony lasts about 30 minutes at the town hall.
Where is Vaitape's town hall in Bora Bora?
In Bora Bora there is no real postal address but don't worry, you won't get lost. Vaitape's city centre is very small and intimate, like its Town Hall and wedding hall. The town hall is located in the city center opposite the shuttle platform for the airport between the post office and the main square. If you are staying at a resort you can ask your hotel to arrange a boat transfer (shuttle) from your hotel to the Bora Bora Town Hall.
I hope that this article will make it easier for you to organize your legal wedding in Bora Bora!