You've heard about the exciting Bora Bora wedding ceremony. The white untouched beaches, crystal clear turquoise ocean, huts over the water… Sounds like a dream, right?

You're inspired because you'd also love your wedding ceremony to be different. Extraordinary. The one you'll remember for a lifetime, and you'll talk to your kids about. Stress-free, simple and fun. Maybe with some coconuts included.

In this post, we cover everything you need to know about the Bora Bora wedding ceremony. From the unique traditions, meanings, to the exact stages of the wedding, and the formalities. After reading this, you'll be able to decide if the Bora Bora wedding ceremony is your 'It'.

So, shall we dive in?
Is the Bora Bora wedding ceremony for you?
Some people say Bora Bora is the most romantic and beautiful island on earth. They call it the pearl of the South Pacific. Here, you'll enjoy the long white sand beaches, running around barefoot on the soft sand, dazzling views no matter where you are, and tranquility all around.

During the Bora Bora wedding ceremony, you'll taste the real tropical feels. You'll say your 'I do' right on the beach or in a chapel, wear a flower crown, dance wild (shaking those Polynesian dance moves) with the local drumming, sip on your cocktail from a fresh coconut, and enjoy your romance alongside the sounds of ukulele.

Sounds exciting? Then you know your answer. 😉

How does the traditional Bora Bora wedding ceremony look like?
Let's get into the nitty-gritty details…

The 5 steps of Bora Bora wedding ceremony and its traditions
1. It all begins with a canoe and blowing a conch shell
Your 'happily ever after' story begins with one of you arriving on a canoe escorted by a Polynesian man while the other one usually waits on an islet. When you meet, you walk together into a heart-shaped ring of flowers and sit in the traditional 'armchair Pomare'.

The history of this chair and its local tradition goes way back into the royal Tahitian dynasty. However, now it's your turn to feel royal. All the magic is about to happen on this chair.
Next arrives the Tahua (Tahitian priest) wearing red and yellow - the sacred colors of royalty. He blows the Pu (a conch shell) into 4 directions of the earth as a call to the elements of earth, sea, air, and fire. This tradition dates back several thousands of years to call upon the divine, to call down the ancestors, and to welcome you - the bride & groom.

After blowing the conch shell, the wedding starts!


2. You get purified and blessed by the Gods
While the music of ukulele is playing, the Tahua (priest) opens the ceremony with the Auti leaf (a plant sacred to Tahitians) blessing. Historically, only royal couples were allowed to receive this blessing. Auti leaf represents spiritual connection, purification, and healing. According to the Polynesian cultural beliefs, it also protects you from evil spirits and brings blessings of the Gods. It celebrates the union of the two of you - the sacred bond.
The Tahua divides the Auti leaf into two halves and creates an Auti bracelet for both of you on your wrists. In ancient times Tahitians would tie the Auti bracelets to the entrance of their fares (homes) to protect their privacy (something you can do as well).
Next, you take your partner's hand and the priest pours Moana over your hands. Moana is either pure ocean water (from the greatest temple on earth) or coconut water. It serves as a purification of the wedding. The water washes away all of your sins, giving you a fresh new start.

Just like at every Polynesian joyous occasion, you'll get leis and flower crowns made of hibiscus flowers and Tahitian gardenia. Leis brings you harmony and embodies the qualities of commitment, devotion & love for each other. The parents of the bride (if present) give the groom the leis as a sign that he's welcome in the family. The same goes the other way around with the bride. Once you exchange your leis and flower crowns, the best is just about to come!
3. Get wrapped by love & acceptance in the traditional tifaifai
It wouldn't be a true Bora Bora wedding ceremony if you didn't tell your vows to each other! At this stage, the two of you exchange your vows and rings. You have the option to tell them in English and Tahitian too. Don't worry, the Tahua will help you, and you'll only repeat after what he says.

He also asks the Gods to give you their blessing and makes the Mt. Otemanu (The highest mountain in Bora Bora) as the witness of your love.
Finally, you'll be wrapped in the famous tifaifai - a traditional blanket handcrafted by Tahitian mamas. comes in the red color representing royalty, love, and acceptance.
4. Have your very first kiss as a married couple
Here comes your moment! Your very first kiss as a married couple in Bora Bora. Also, you receive a unique Tahitian name and the local musicians sing a song for you using your Tahitian name.
5. And, it's official. Your 'happily ever after' can begin!
At the end of your Bora Bora wedding ceremony, you obtain your wedding certificate called Topa with your Tahitian names on it. It's not just an average paper certificate. Topa is hand-made from a luxurious fabric and symbolizes wealth.
As you walk out from the heart-shaped ring, people toss flower petals at you creating a beautiful picture. At this moment, you're probably 100% mesmerized by the petals and hopefully the happiest couple on earth. This act closes your wedding ceremony, and...

6. One thing left to do: Dance, dance, dance!
This is your time. Time to celebrate your beautiful commitment and have fun at Maa Tahiti - the traditional Tahitian feast. You can try those Polynesian crazy dance moves (Tamure), listen to the ukulele sounds or just let it sink all in. Sip on a cocktail from a fresh coconut, and enjoy the moment as newlyweds.

A few more tips to help you prepare:

Try 'Pareo' if you dare: the local Tahitian bride wedding dress
Only about 5% of brides getting married in Bora Bora do it the traditional way - wearing a white Pareo. If you'd like to spice up your wedding ceremony a bit, this is your chance! However, of course, this isn't a necessity. If you love your actual wedding dress, no worries! Your Bora Bora wedding ceremony is already extraordinary enough itself. 😉
Once married, explore together the Bora Bora island!
Once you're married you may feel like the exciting exotic part is already over...But, no way! Your exciting Bora Bora experience can still go on! At this point, you're free to do whatever your heart desires.

If all you want to do now is just to relax, be together, and do nothing, you have the absolute right to do so. Don't let anything disturb you and indulge in this moment. Yet, if you're feeling active and curious to discover Bora Bora together, you're in luck!

There's so much to do in Bora Bora. Have a look through all these activities and pick the one that's the most attractive for you.
How to organize your very own Bora Bora wedding ceremony
Make sure you're allowed to make it official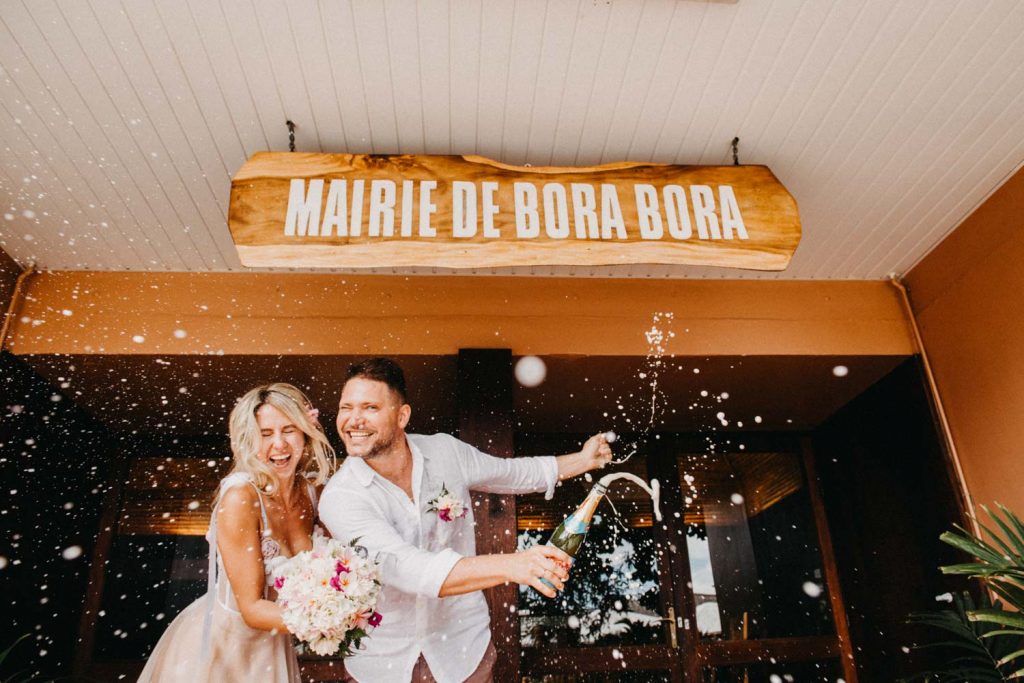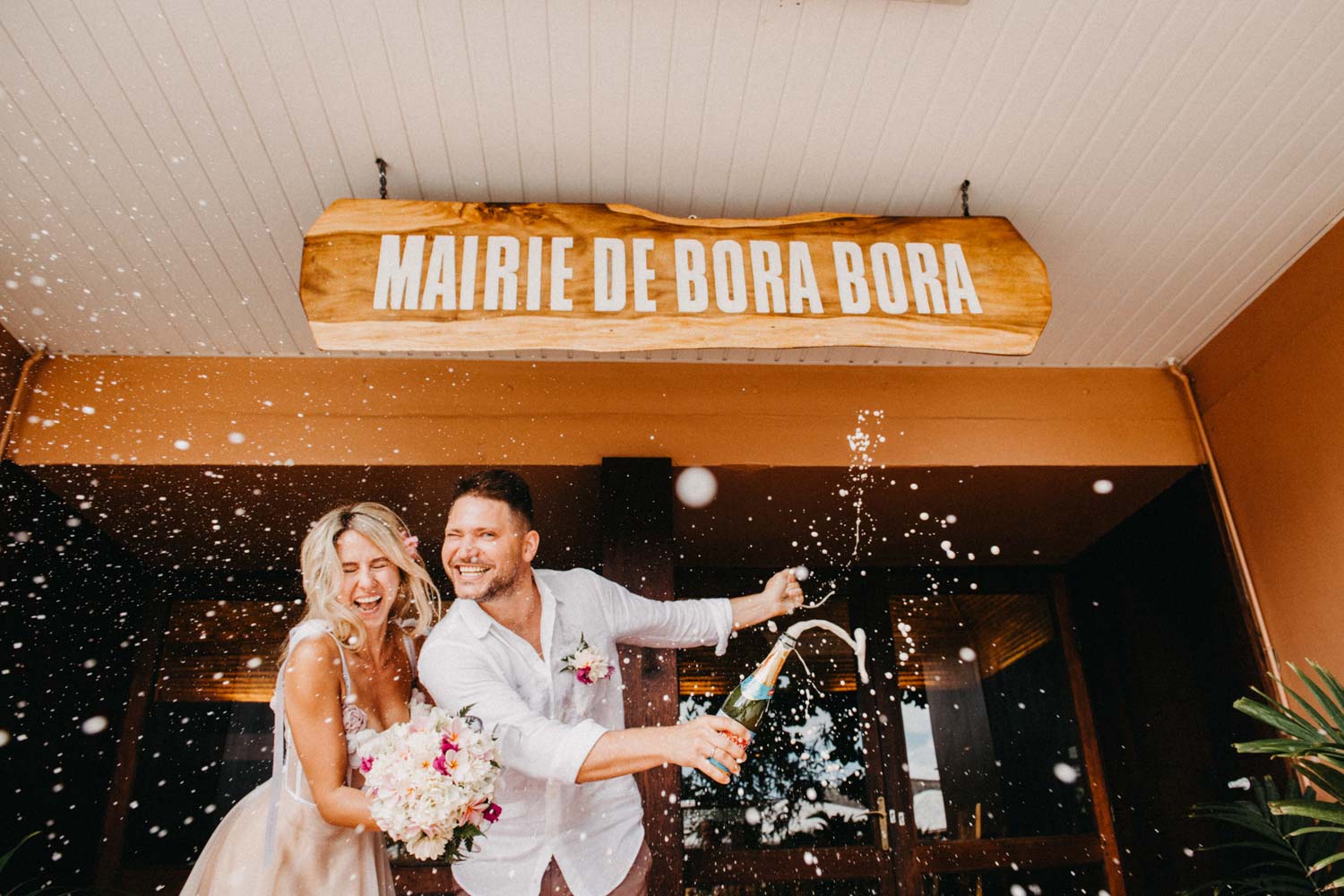 If you want your wedding ceremony to be official and legal outside of Bora Bora, you and your partner can't be of French origin or have the French residential status. Unfortunately, this is the French law in Bora Bora.

For all the non-Frenchies, read our ultimate guide to learn more about getting legally married in Bora Bora. To pursue a legal wedding ceremony in Bora Bora, you'll first attend a simple ceremony at the town hall with a representative of the mayor presiding. Then you'll have your unforgettable wedding ceremony by the beach.

The good news is that you can always have a symbolic or a vow renewal wedding ceremony in Bora Bora! No matter what nationality you are. In fact, you don't even need to be legally married (anywhere) to have the traditional Bora Bora wedding ceremony. And that's what it's all about, right? 🙂

Contact a professional wedding planner
You can either contact a wedding planner yourself or let your resort in Bora Bora arrange it all for you.

Here are the 4 most popular wedding resorts and their packages:
The most pristine places to hold your Bora Bora wedding ceremony
With all the exceptional choices of places to get married in Bora Bora, it's hard to decide on the best one. So, we created a tiny little review of each to hopefully make this process a bit easier for you.

Wedding ceremony on the beach
Each resort has its own private beach area set aside for wedding ceremonies. These beaches are neat & cleaned daily with no people wandering around during your wedding ceremony.
After the ceremony, you can take advantage of the beautiful scenery with hammocks above the turquoise lagoon, tropical landscaped gardens and unobstructed views of Mount Otemanu or on the lagoon. This variety of scenery is also great for taking some epic pictures.
**To learn more about the photoshoot on the resort's beach, read this post.

Wedding ceremony on a chapel
Most resorts also offer a chapel for an intimate, romantic Bora Bora wedding ceremony. The ceremony feels closer to the traditional western wedding but still makes a beautiful place to say your 'I do'.
Another huge benefit of a chapel is that it makes a great backup for your ceremony in case of rain. You can still go through your dreamy wedding with no interruptions. The only disadvantage of a chapel is that the light for your wedding photography is harder to control and the space is very limited.

Wedding ceremony on a hilltop
At the Conrad Bora Bora you can marry on a unique hilltop deck, above lush gardens, with panoramic views of Bora Bora Island, the huts, mt Otemanu, and the lagoon. This option makes a wonderful Bora Bora wedding ceremony and it's also perfect for your wedding photos.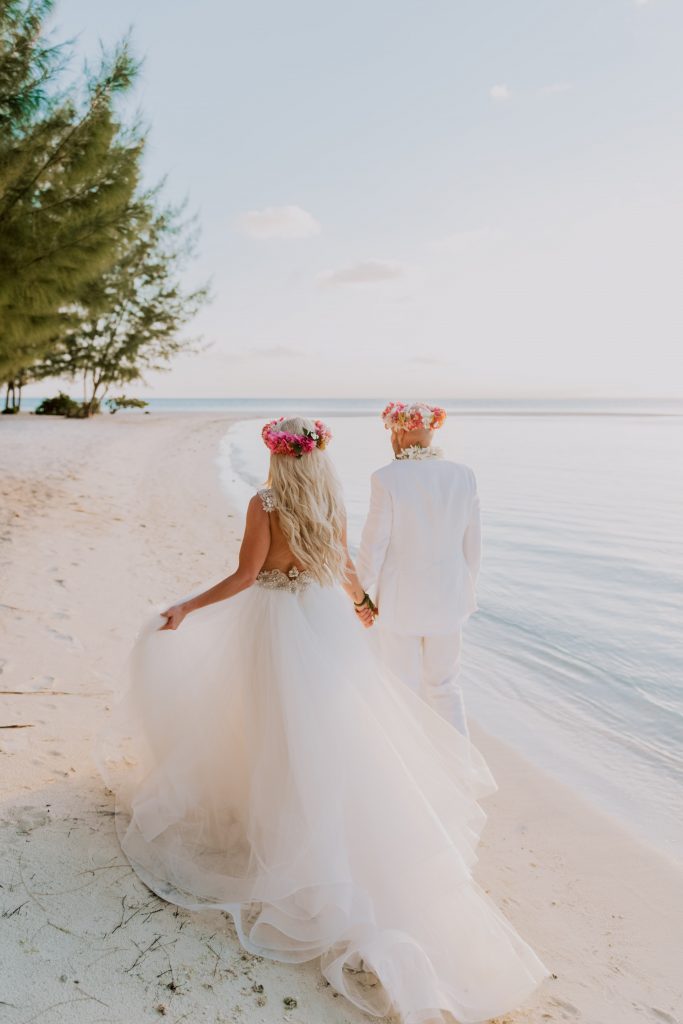 Wedding ceremony on a private islet
If you're dreaming of a wedding in the most natural setting, resorts also arrange weddings on private motus (small island). It's the mindblowing combination of white sands beach and lagoon, surrounded with swaying palms & the soft sound of the ocean greeting the island's distant protective coral reefs.

To get here you'll take a boat, and you'll arrive in a paradise. You'll love this option if you're craving for extreme privacy and an adventure on a boat.
Wedding ceremony on the coral
The last option is the coral beach, a few feet from the coral reef barrier. Here you'll enjoy the wild scenery of low miki miki plants, colorful corals, and you'll listen to the waves crashing on the reef.
This location is also perfect for couples looking for a bit more privacy and a peaceful setting. To book a wedding on the reef side, look into St Regis or Four Seasons resorts.

When can the legal wedding take place?
Legal weddings can take place anytime except Sundays or Public Holidays. However, you can have the traditional ceremony done every day 365 days/year.

How many days in advance should you arrive for your wedding ceremony in Bora Bora?
We recommend that you arrive in Bora Bora at least two days before your wedding day. You'll have enough time to prepare and adapt to the new culture.
So, if you're decided and ready to have your own Bora Bora wedding ceremony, we share with you our 5 top tips to set you up for the most stunning pictures possible!
Bonus: Marc's 5 quick tips for stunning pictures of your Bora Bora wedding ceremony:
Unleash that raw emotion
The secret to gorgeous pictures? Be free to express all the emotions that come to you! Don't try to hide them. It's your moment, YOUR wedding ceremony and today you do anything you wish. Feel like jumping around? Cry tears of joy? Or just can't stop smiling at your bride? Great, do just that!

Don't let anyone's judgment influence your emotions. Because today is only about you and your bride. Not them. And we're sure everyone will find it lovely anyway. 😉

2. Find the right spot
At the beginning of the ceremony, when you're about to enter the heart (or get under the arch) don't forget to center yourself correctly. Stand in the middle of it, so it looks more symmetrical and beautiful in the pictures.

3. Drop the tissue
As we've just mentioned: Don't be afraid of crying & let your happy tears flow during the ceremony. The only thing you need to watch out for is your tissue. The best, just drop it. Because who wants to see an ugly tissue in the middle of you two in a photo?

Also, if you're worried about your make-up, you'll have time to do a touch up if necessary before the couple pictures.


4. Let your rings be seen
When you're exchanging the ring, try to hold it from under so we can actually see the ring and your fingers. If you don't hold it from under we won't see a thing and it will be difficult to capture this wonderful occasion!

5. Just give in & dance
When the dancers invite you to dance during the ceremony, don't resist. Although it might seem a bit intimidating, GO FOR IT! There's no reason to be shy or feel awkward, we promise!

It's only three minutes of your ceremony, and you'll have a lot of fun dancing the Polynesian way. Plus, all this joy, dance, playfulness, and you having fun will make your pictures look even more alive and exotic. 🙂

And, there you go. Time to be excited about your own Bora Bora wedding ceremony!
Now, it's your time to walk around those jaw-dropping white beaches, get your picture taken in your stunning wedding dress/attire on the beautiful Bora Bora island, dance, learn the wild Polynesian dance moves, and have the local musicians perform just for you.

Savor your once in a lifetime experience, celebrate your commitment of love with the tropical Bora Bora wedding ceremony, and get blessed by the Polynesian Gods. Let everything else be handled for you. You and your loved one deserve to indulge in this euphoric experience!

And to document it all, that's what we're here for! We'll capture all the romantic moments creating gorgeous pictures for you. Whether it's while you're getting ready for the ceremony, the 'After pictures'- as a newly married couple, or even the wild & adventurous ones - trashing your dress.

We'll tell your story in epic pictures, and make sure you never forget about your special day.
See you in Bora Bora!