"So jealous! Maybe one day I'll do a Bora Bora photoshoot too.."
"OMG that's a gorgeous dress!"
"You guys look so stunning!"
"No way! How did you get pictures like that?"
"On my way to Bora Bora now!"
Imagine seeing hundreds of comments like these on each of your Instagram photos from Bora Bora. New followers, new brand partnerships, tons of likes and your inbox exploding with opportunities. You, inspiring your little digital community to travel to divine places, appreciate life, and celebrate their love. Your tribe discovers new countries, tries new things and all of that mostly thanks to you! Would you like to be the leader & constant inspiration for others? Get heaps of brand collaboration possibilities and maybe even paid brand partnerships?

Yes, Bora Bora backgrounds will take your pictures to the next level themselves. However, if you want to take it to the top, let's do it properly.
With a professional Bora Bora photoshoot and thorough planning, you'll skyrocket your Instagram engagement, grow your following, and step closer to your goals.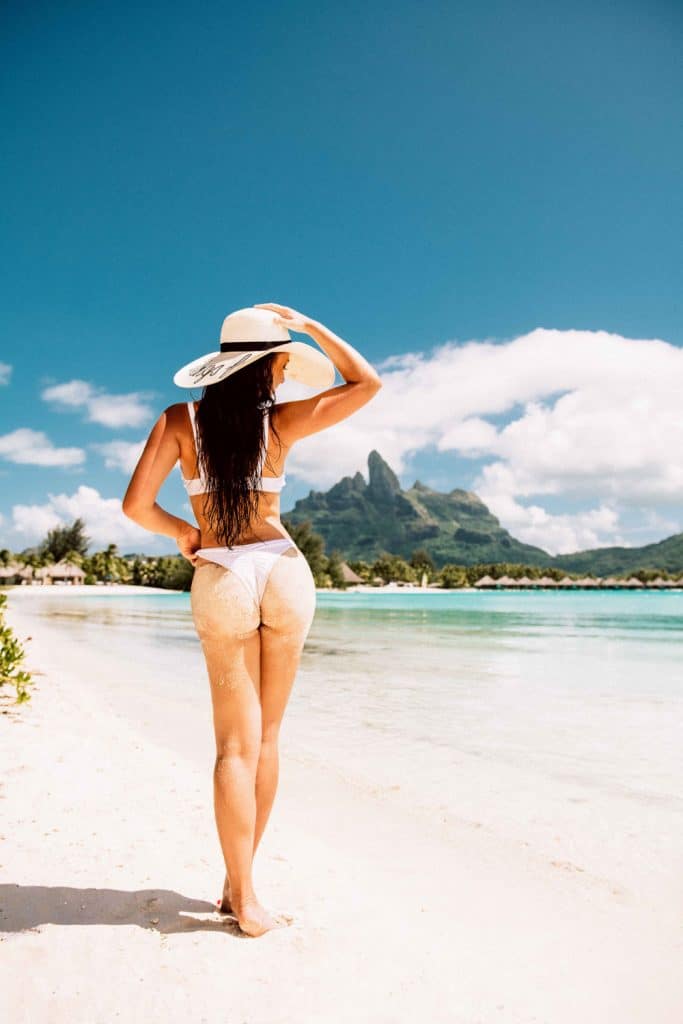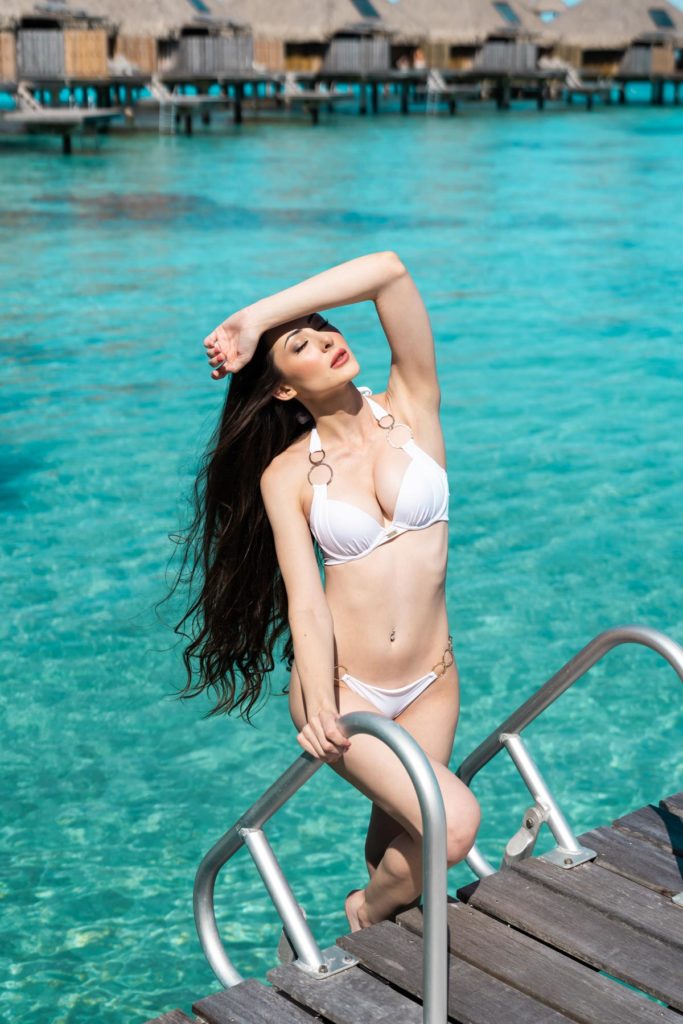 To make the planning process easy, we wrote this massive post for you. It includes all the information you need to rock your Bora Bora Instagram pictures. Whether you're an Instagram newbie, an Insta star, or you only want a great portrait of yourself in a dreamy place, this post has a lot to offer to all of you.

...Hope you're excited!
Everything you need to know before your Bora Bora photoshoot
Using years of experience as a professional Bora Bora photographer, these are the pro tips that my team and I carefully handpicked for you. Use them to get top-notch documentation of your lovely memories, and make the most of your Bora Bora photoshoot.
Shooting for Instagram: the secret of Insta-worthy photos
While most photography factors can be handled by your photographer, there's one that only you can influence. If you get it wrong, nothing else will matter. And that's AUTHENTICITY! Uncover your true self, share your emotions, and let your amazing personality shine on the picture! Be your awesome, fearless, and confident YOU! Nobody likes the awkward poses that just don't suit their type.

Once you choose your dream photographer in Bora Bora, give him your full trust. Believe he knows what's best, relax, and allow him to guide you to the best-looking poses. He'll help you highlight your genuine beauty and capture the real you. If you feel natural around your photographer, you've just nailed the #1 fundamental thing of an Insta-worthy picture. 😉

Now, go ahead and…
Steal our ideas for a kickass Bora Bora photoshoot
1. Don't hire your Bora Bora photographer straight away
Why not? If you organize your Bora Bora photoshoot through your resort, they might choose the photographer for you. Instead, do your research, look for the one that inspires you, fits your personality, and your Instagram brand voice. Then insist on doing the photoshoot with him. The photographer from your wishlist.

To research the best Bora Bora photographers, visit their Instagram & Pinterest profiles, notice their style and color palette, and check their reviews. If you found the one you love, great! If not, just keep on searching. 😉

To see our work, visit our portfolio, Instagram, and reviews here. If you'd like to learn more about choosing the best photographer for your Bora Bora photoshoot, check the end of this post.
2. Discover the pristine spots on your Bora Bora photography tour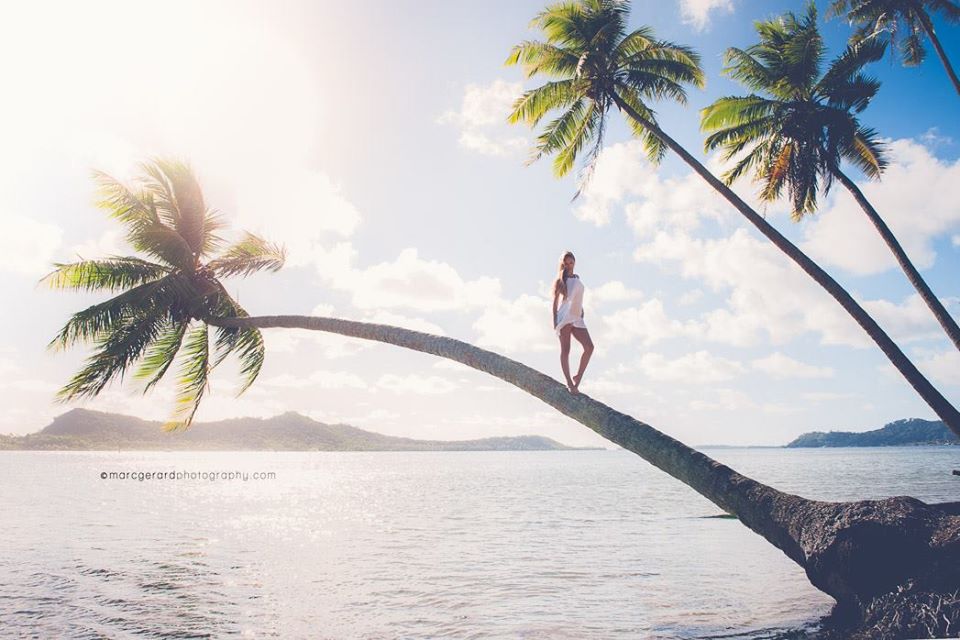 Treat yourself for a little island tour, and discover new spectacular spots for your Bora Bora photoshoot! Most Bora Bora photographers live here, call this island their home (yes, us too) and will be excited to show you the most photogenic locations. So, don't be afraid to ask and let them take you on a lil' Bora Bora photography tour. This way, you'll explore the island and get gorgeous photographs from your fave locations!
If you stay in a resort, you can also take time to get lost and wander around. Maybe you can find some hidden gems yourself! If not, spy on other people's Insta photos, and get inspired by them. When you have your ideal location, ask your photographer about it at the beginning of your Bora Bora photoshoot.
3. Get ahead of the game with optimal lighting and colors
Most photographers say: 'Lighting is everything in photography.' A hardcore cliche but almost true. When is the best time to book your Bora Bora photoshoot, then? Our suggestion is the golden or what we call the 'turquoise hour'. The golden hour is either early in the morning during the sunrise or in the afternoon during the sunset. At this time, the colors turn soft, warm and sparkly giving you that natural glow... The perfect 'love story' setting.

If you want the true star of the hour to be the color of the lagoon, try the 'turquoise hour'. This is when the lagoon looks so magical and fairytale alike. Nothing screams Bora Bora more than the pure bright lagoon. So, if you don't want to miss these epic colors, book your photoshoot anytime from 8AM to 12PM. You'll get an optimal lighting, dazzling colors on the picture, and the stunning looking you in a paradise.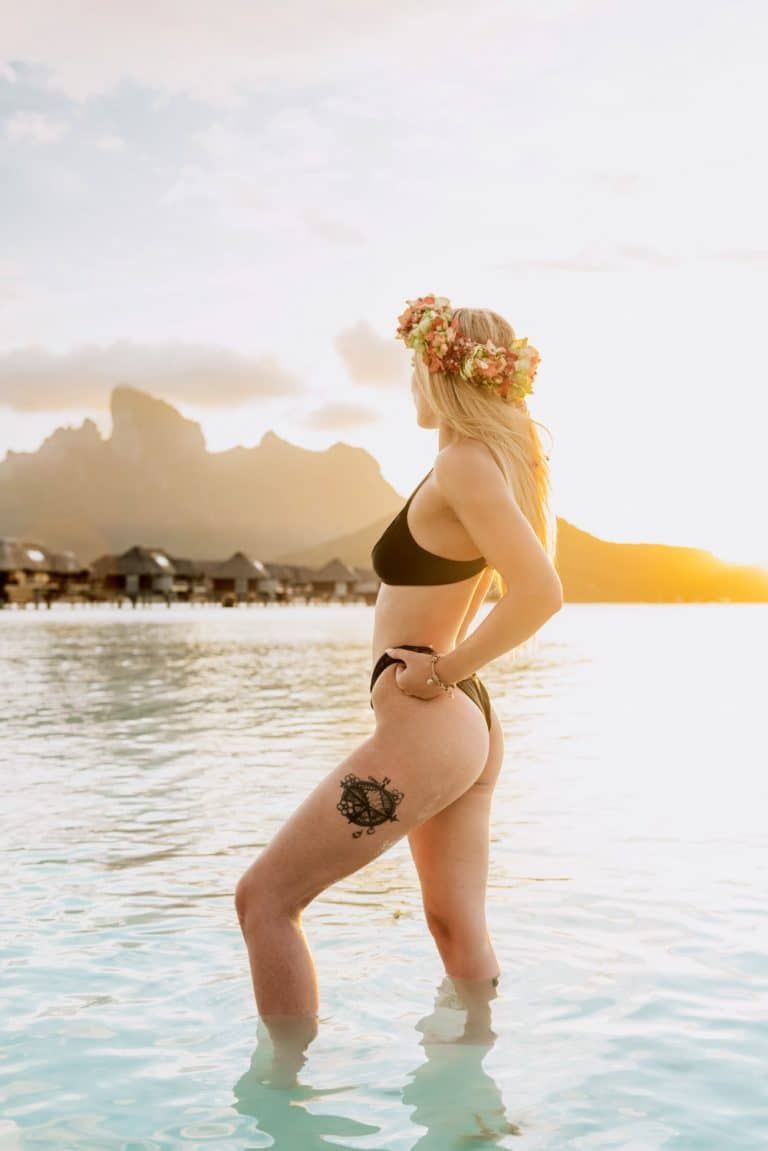 4. Reveal the fearless, beautiful you
'I'm not confident enough.'.... 'I never look good on pictures'
'I don't know how to pose for a photoshoot'
'I never know what to do with my hands when being photographed'
Does any of these sound familiar? Do you sometimes (or always) find it a bit uncomfortable to be photographed? How could you be fearless & beautiful if you don't feel good during your photoshoot? If that's the problem we have a few simple tricks that will get you comfy, have fun, and feel like a real model. Because let's face it: during your Bora Bora photoshoot you are a real model!;)
Take a deep breath. Yes, something as simple as taking a deep breath can help you lighten up, let go of stress, worries and make you enjoy your time.
Do something. Encourage your photographer to give you a task to do. You'll think of something different and won't focus on the camera as much. (We like to ask our clients to jump, play with a prop, walk around, dance, kiss, do whatever comes natural, and it works perfectly.)
Have your Bora Bora photographer or his assistant show you the poses first. If they do it first, you won't feel awkward doing the pose yourself. At our photoshoots, the main expert and help for this is my wife Billie. After her demonstrations, our clients feel at ease and confident. According to them, it's one of the things they like about working with us. 🙂
Don't be afraid to have a conversation and collaborate! Most good photographers, (including us) want you to have a blast during your photoshoot. They don't want to be only your photographers. They'd like to be your friends too! Even if just for a day… Once you know each other better, you'll feel like you're just hanging out with your old buddies. You'll let go of worries and replace them with pure joy and confidence.
For hair, choose anything you wish but don't go with anything too complex or sophisticated. We recommend that you pick a more laid-back and 'island style' hairstyle. If you let your hair loose, that's okay too. Just know that Bora Bora is a windy island and it might get messy quickly.
Bring a prop! You'll have something to do with your hands, and your pictures will be even more engaging. We talk more about this below.
Don't worry if you're not sure if you'll remember all these tips. Your Bora Bora photographer will guide through the whole process and you won't even realize it. We always practice all of these tips and much more with our clients.
5. Play with your props & tap into your genius
Let's bring on the fun! Having a prop is an awesome way to make your picture attractive and give it that exotic touch. You'll get all creative, and your hands will get their task too.

Think of flowing on a crazy floaty, sipping a fresh coconut, experiment with traditional items or feel like a diva in a maxi flying dress. Bring pomare chairs, tifaifai, fish food for underwater pics or even fake tattoos. Options are endless! Anything you'll find inspiring will work. 😉

To give you some ideas and turn on that creative genius inside of you, here are our favorite props you could try.
Maxi flying dresses
Just visit our brand new website to learn more about this brand new experience we created on Bora Bora: Photoshoots with Maxi Flying Dresses.

We have 9 design and colors available (and many more to come) to fit all body types, hair & skin colors. This is definitely your go-to prop if you are looking for a massive confidence boost (and tons of likes ?) during your Bora Bora Photoshoot!

➡️ boraboradress.com ⬅️
Flower crowns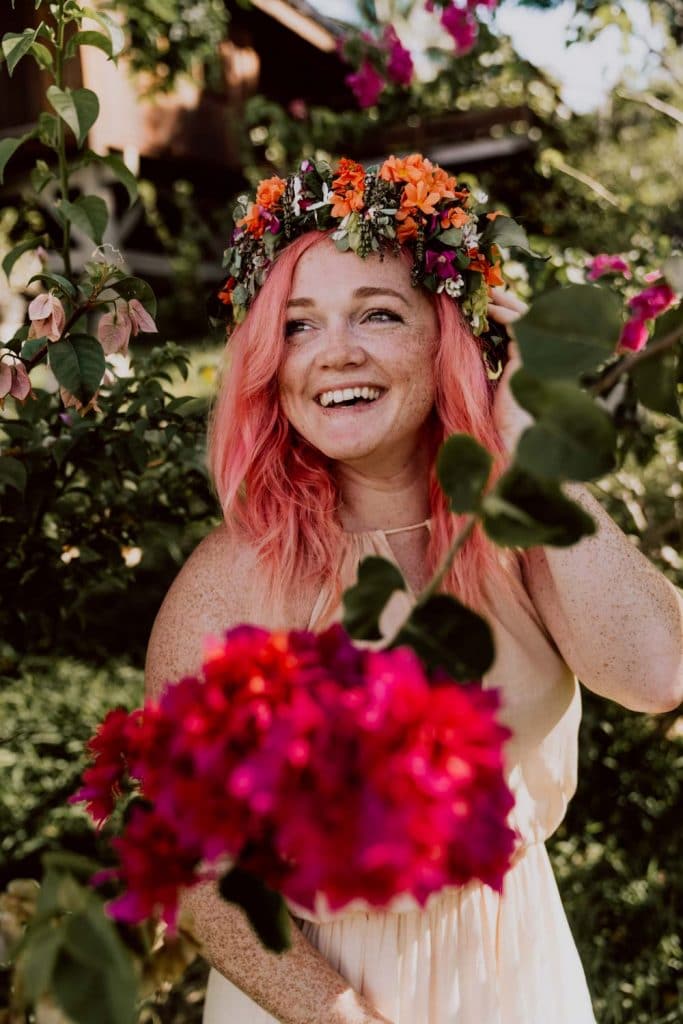 Create a tropical hairstyle by enhancing your hair with an exotic flower crown unique to Tahiti and Bora Bora. You can buy one at your resort or make one yourself! Almost every resort in Bora Bora runs workshops on DIY flower crowns with local Polynesian "mamas". They'll provide you with everything you'll need from a measuring tape, wire, florist's tape, to a variety of both greenery and fresh flowers.

If you don't feel like making it, you can buy one in every resort too. Just ask the concierge at least 24h before your Bora Bora photoshoot and you'll have it on time. Expect the cost to be between 3 000 and 10 000 XPF depending on the resort, size, and the flowers.

But we warn you. Once you'll make it and put it on your head, you'll never want to take it off! Polynesian people wear them to celebrate special occasions and the beauty of everyday life. They usually use hibiscus, frangipani or plumeria, and the Tiare flower. You can make a flower crown purely out of ti leaves or go wild with all the native flowers. To keep your headdress fresh for your Bora Bora photoshoot, make sure to store it in a fridge.
Traditional props that you can rent or land
Each of the things we list here in this section you can usually rent at your resort.
Traditional canoe
What a better way to feel like in a fairy-tale than with the most iconic Bora Bora's traditional canoe? If you've never seen the super cute 'Moana' Disney cartoon, we suggest you watch it before you arrive in Bora Bora. You'll want to rent your canoe straight away. In the old days, locals used the canoe for long travels and now it became a bit smaller meant mostly for newlyweds and lovers to bring them on their journey together.
Pomare chairs
Would you like to set a flirty vibe? A place where both of you can cuddle and feel idyllic? Or even (if you eloped in Bora Bora) recreate the memory of your first 'I do'? If your answer is yes, you'll love adding pomare chair into your Bora Bora photoshoot.

This iconic chair first got popular thanks to its appearance in the famous erotic movie "Emmanuelle". So, if you'd like to spice it up with some extra 'sexy feelz', you know what to look for.

Originally, it comes from the last royal dynasty of Tahiti. The legend has it that the prince Hinoi (Teri'ihinoiatua Pomare), a huge man of 250 kilos and 2 meters tall died in this chair. Sitting here, you can enjoy the connection with the ancient Polynesian king or just use it to get the coolest pictures. 😉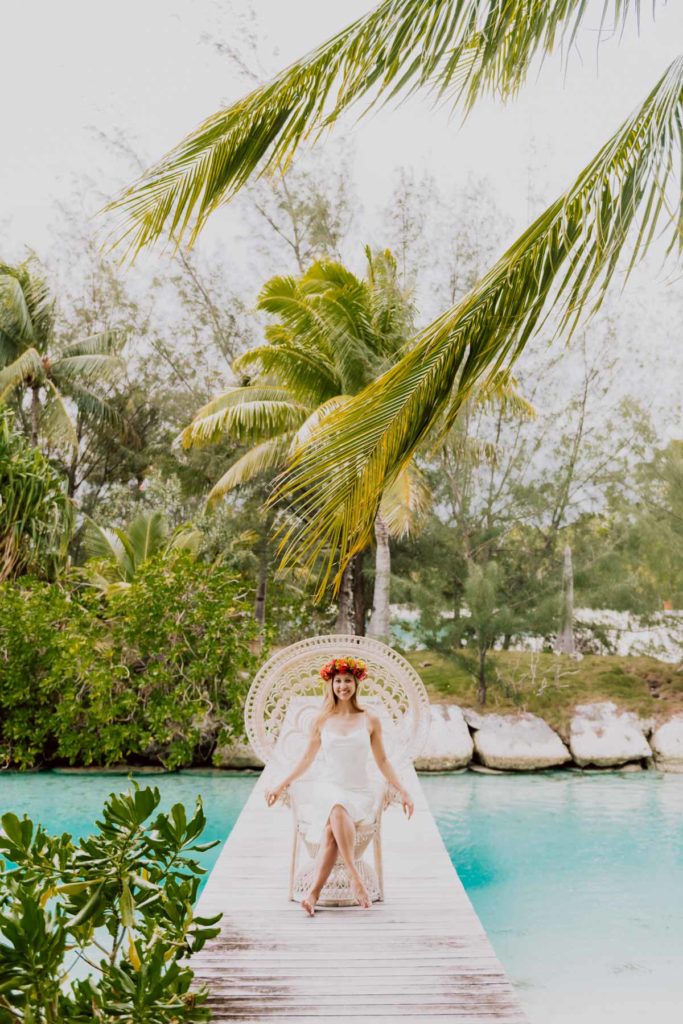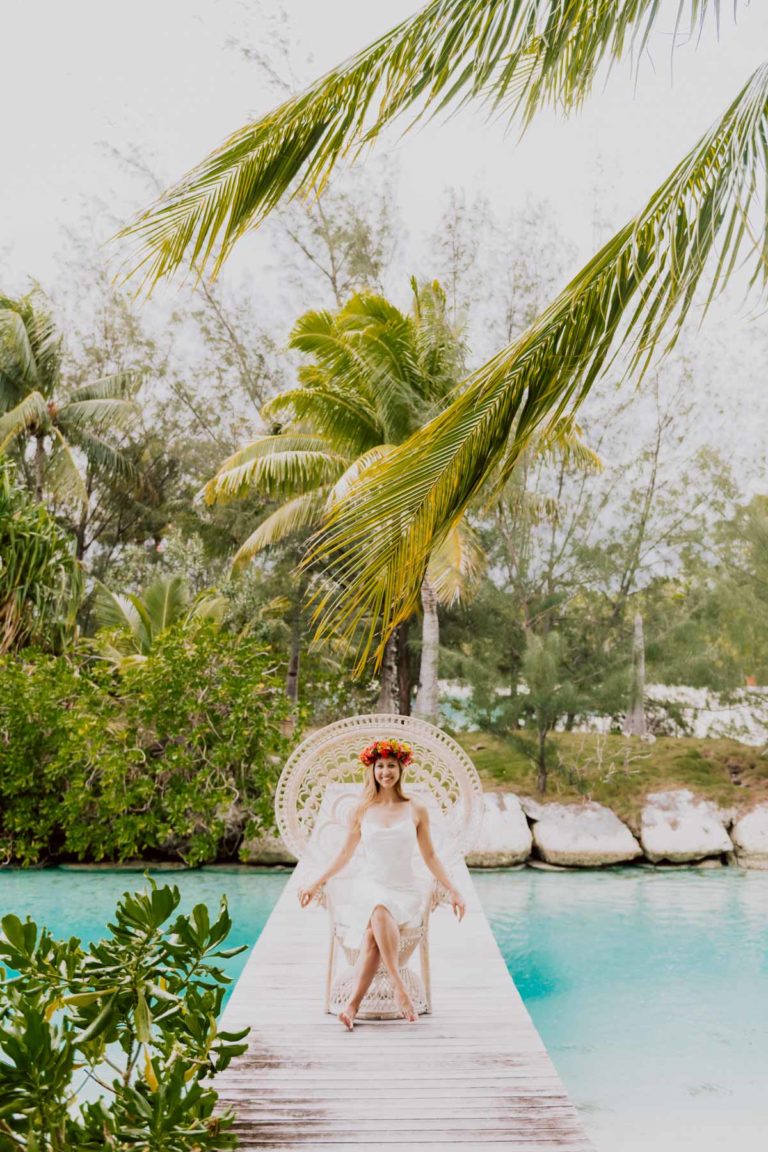 Exotic jewelry
Another thing you can rent in a resort is the exquisite local jewelry. Try anything from their killer earrings, bracelets to necklaces made of Tahitian pearls and more precious gemstones from the natural riches of Polynesia. All of them are the highest quality, locally sourced, and combined with the finest metals. Wearing these will give you that stunning and graceful feel in the photo.

Traditional outfits
Wear a traditional Polynesian outfit and add that extra 'wow factor' to your picture! Since almost all the brides in Bora Bora wear western dresses, having a traditional one is a fail-proof way to catch your viewers' attention and stop them from scrolling.
The easily accessible props
With our clients, we like to play with the under/over water pictures and little fishes swimming around them. Yet, for the best results, our advice is to always bring some fish food. This way, you'll get the whole fish shoals next to you and they'll stick around for longer! If you don't mind becoming a mermaid for a while, this is a great move for a wittier Insta picture. 😉 You can buy it in every resort (concierge, front desk, shop...), and the cost is from 300 to 1500 XPF depending on the resort.
Coconuts are a must! Nothing says more 'I'm tropical' than a sexy fresh coconut with a bamboo straw. This is your cheapest, most accessible and yet extremely effective prop. Include it in your picture and jumpstart that sense of wonder in your followers' dreams.

Do you want to be seen as a highly adventurous and fun couple? Then pull out a cute floaty, jump into the wild wawes of Bora Bora's ocean and be a kid again! Flow on the water, get messy, maybe even fall off and laugh hard. Our guess? This might even become your favorite part of your Bora Bora photoshoot. For the best floaties, we recommend the ones from Sunny life. If you don't want to travel with it, you can buy one in most of the resorts.
Why not decorate your skin too? Henna & golden tattoos are temporary, safe, pain-free and toxic-free! A win-win! Skip the headache of making the right choice for life when choosing your tattoo and go with a temporary one. A beautiful compliment to your styling!

6. Let your natural beauty shine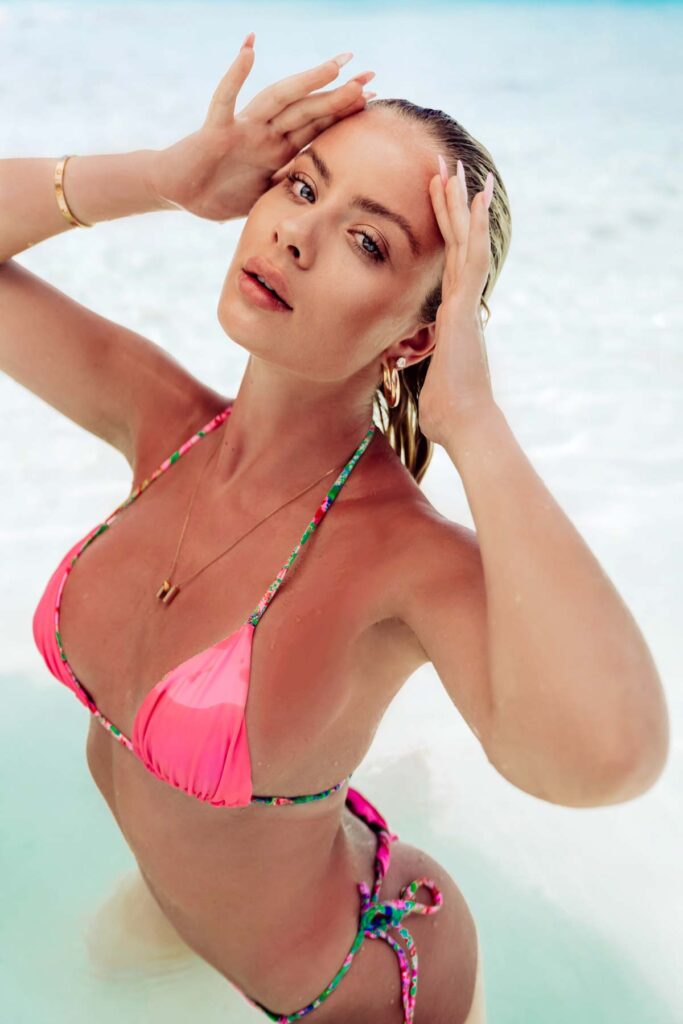 Many of our clients ask us about the best makeup and styling for their Bora Bora photoshoot. Our advice is to get a professional stylist but aim to keep your look natural. For this, you can easily hire someone directly in Bora Bora (we have plenty of contacts, just feel free to ask us) or use the resort's SPA mua. Don't be afraid to reveal the true you and use your charm.
7. Jump for it
Sometimes you need to get out of your comfort zone and be adventurous! If that's you, try mid-air or underwater pictures. You'll change the viewers' perspective on the photo, get wet, and add a bit of adrenaline to your photography. We offer underwater & mid-air photography as well and for no extra fee.
Get the most beautiful results & experience from your Bora Bora photoshoot
Hopefully, with our tips, you're all pumped up for your Bora Bora photoshoot and you can't wait to play with your props. 😉 All you need to remember is to be your authentic beautiful self, choose a photographer who understands your wants, fits your style & personality, and prepare well. You don't need to bring all the props we listed in this post. Better, choose the ones you can identify with, and make the most of them!

Finally, our last tip for you is to your resort (and us of course 😉 ) when you post your gorgeous Bora Bora pictures on Instagram. They might love it and proudly repost your photography giving you even more exposure. Easy, right?

If you're serious about getting wonderful portaits of you and growing your Instagram with epic Bora Bora photography, we'd be thrilled to help you! We have hundreds of happy clients and years of experience documenting people's love stories but also a strong experience in fashion. To learn more, see our portfolio and our reviews here.

And if have any questions, shoot us a message here
Can't wait to see you in Bora Bora! 🙂