You've already planned out your dreamy exotic wedding in Bora Bora. You booked your stay and you're excited about your final 'I do' on a pristine white sandy beach. Awesome! Yet, there's one last thing left unsolved. Should you hire a professional photographer? How much does a professional wedding photographer in Bora Bora cost?

Is it even worth to invest in one? Or can you take the photos yourself? And should you choose analog or digital photography? What are your options?

Well, although that's a lot of questions, we have answers for all of that! Just keep on reading. 🙂
Bora Bora photographer cost: Should you invest in a professional wedding photographer?
While hiring an expert photographer in Bora Bora can be pricey, in the long run, you won't regret it! Just imagine showing your epic pictures from your tropical wedding to your family, friends, Insta followers, and maybe even kids and grandkids one day!

You'll feel proud & grateful every time you look at the photos and think of this experience. You'll go back in time and see your stunning looking selves in the most breath-taking place. However, not all pictures can tell your story as easily as that.

Selfies and self-made photography can be nice for some occasions, but when it comes to a significant event like a wedding in Bora Bora, we'd recommend hiring a professional. You don't want to miss any of it or risk that your pictures won't be of good quality!

With professional wedding photographers, you can rely on them to create images in the exact style you love, be sure they won't miss a single detail of your ceremony, and that you'll get outstanding documentation of your wedding.

The price of a wedding photographer in Bora Bora
And how much does a wedding photographer in Bora Bora cost?
This depends mostly on your preferences and what package you choose. When you contact your resort, they'll offer a 'wedding package' with an option to have an all-inclusive wedding. Expect the cost to be $1000 to $8000. Usually, standard photography is included. In the most popular resorts, you can even pick the photographer yourself. In others, they might charge you an extra fee for it. Here are the 4 most popular resorts & their wedding packages:
If you can choose your own Bora Bora photographer, we highly recommend that you take advantage of it. You might trust that these highly luxurious resorts would work only with the best of the best photographers, right? Shouldn't they know who'll be the best for you? Well, not quite. They don't know you personally and they don't know your style. Because of this, they might connect you with a photographer not very suitable to your spirit.
Always try to go with a photographer that speaks to YOU. When your resort suggests you a photographer, have a proper look at his work, and if you love it, amazing! You've found your match! If not, do some more research of the other photographers and eventually, your perfect fit will appear. (Also, don't forget to follow our exact tips at the end of this article.)
A professional photographer in Bora Bora vs DIY photoshoot (cost & quality)
Let's say one of your family members/guests have an expensive camera and maybe even some good skills. Could they shoot you some nice picks and save you some $$? Or should you rather leave it to a professional?

While having an expensive camera is great, it doesn't guarantee quality photography. Just like you probably wouldn't hire a part-time builder with the best quality bricks to build your house, the same goes for a photographer. You want someone with years of experience, and a lot of happy and satisfied customers who recommend him. (Even if your resort suggests him, still check those reviews!)

Someone skilled at creating gorgeous wedding pictures in different light, different conditions, composing different shots and executing it perfectly. A local professional photographer will have years of practice in capturing weddings, and he'll know the best spots for those cute 'bride & groom shots'. Your wedding day isn't a photoshoot, it is a dynamic event with only one chance to capture those moments.

Also, an expert photographer will make you feel comfortable and natural. You'll avoid feeling stiff and awkward. It's your wedding day, so it should be fun and enjoyable! And this skill comes from experience and you having trust in him.

Know that once your big day is over, apart from memories all you have are photos. You only have one chance to capture your wedding day, so make sure you trust and have confidence in your photographer.
Bora Bora photoshoot: Analog or Digital photography?
So, you've heard about the widely popular trend of 'analog' or 'film photography' and you're wondering if you should give it a try at your wedding in Bora Bora. You're attracted by the idea of an authentic photographic experience and nostalgic photographs as the end product. You crave that 'painterly' and 'creamy' smooth look in a retro theme.

Why not, that's great! You found your desired photographic style! Should you go with film photography then? Our simple answer is no.

Unfortunately, all these promises of an authentic experience and nostalgic photos are only a fake marketing strategy. A way to make you pay more for your wedding photoshoot. Nowadays, most professionals switched to digital. Especially when it comes to fast-paced events like weddings! The reasons?
First, film photography is time-consuming. With digital cameras, the setup time and setting adjustments can be far quicker than with film. Why risk that some details of your wedding might be missed? Also, the film needs to travel long distances from Bora Bora to the labs in the US, and wait there for them to return developed films. This could take days, creating a longer gap between turnovers and unnecessary carbon emissions. With digital photography, we're able to produce photos in the same style (thanks to the editing process called rendering) for a lower cost and a much faster turnover (48 hours).
Second, not even an expert photographer can be 100% sure of the quality of the picture. With film, you never know how the end product will look like. It's like a chef's good or bad surprise in the restaurant. Since the film cameras don't have the LCD to show how the picture came out, the photographers can't be confident of the result of the photo until the film arrives back. There might always be some flaws such as a bad pose, closed eyes, a stressed face, or poor exposure. Without the instant feedback of a digital camera, these factors are impossible to check.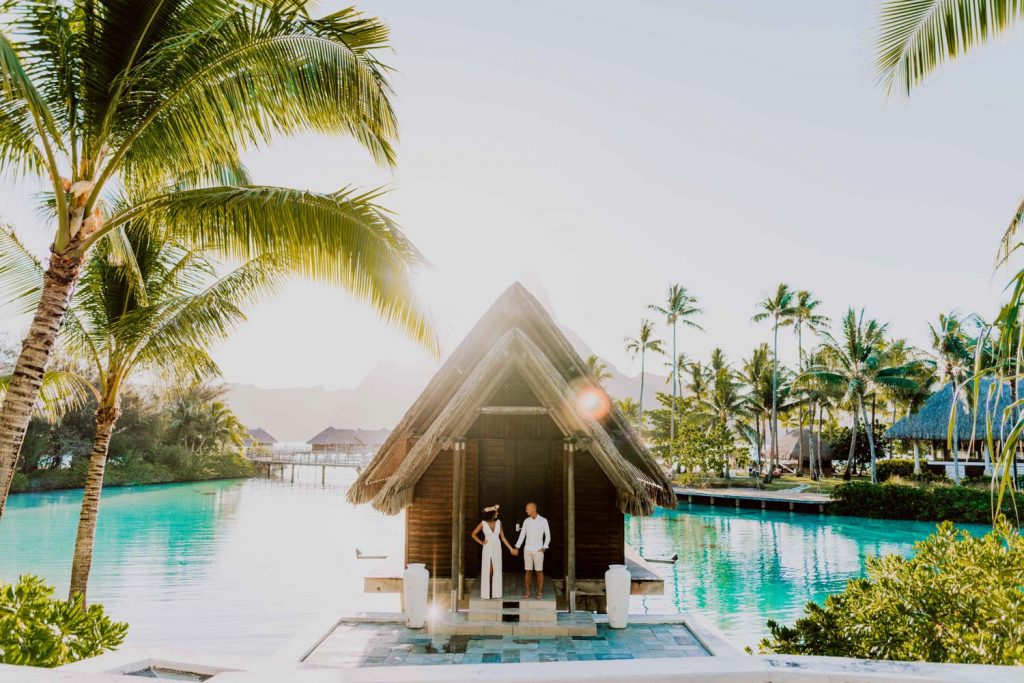 Third, the authenticity of film photography. Yes, taking pictures on film cameras might seem more traditional & authentic at first. But once the films are developed and scanned, they get processed the same way as a digital file in a photo editing software. We don't see anything more authentic with that. So, be careful, and don't trust these fake marketing promises.
The last reason why we recommend digital photography is the limitation of films. With a digital camera, we can take thousands of photos (depending on the capacity of the camera's digital storage or SD card). While film rolls take less than 36 shots which is very limited.
If you'd like to learn more about the differences between analog and digital photography, we're going to have a full article on that too! Stay tuned!
Hire a photographer in Bora Bora: How much does it all cost?
But let's get down to the real cost, prices and exact numbers of hiring a Bora Bora photographer, shall we? Because that's what you're so curious about! While we can't share the prices of the other photographers in Bora Bora, we're happy to be open about ours.
Price for wedding photography in Bora Bora
Price for a 1 hour photoshoot
With us, the one-hour photoshoot includes mainly the ceremony and a few of the couple pictures. We share with you your private online gallery and we edit up to 50 pictures in HD quality. And of course, you can choose which pictures you'd like us to edit, or you can let us choose the best shots. It's all up to you. 😉
Our rates:
Resort : 60 000 XPF (around $550) | Main island: 45 000 XPF (around $400)
Price for 2 hours photoshoot
Our two-hour photoshoot includes the pictures of you two - the bride & groom getting ready for the ceremony, the wedding ceremony shots, and some more couple pictures. You also get your private online gallery and 100 edited HD pictures. Again, if you feel like it you can choose exactly which pictures you love the most and would like us to edit for you.

Our rates:
Resort: 100 000 XPF (around $900) | Main island: 60 000 XPF (around $550)
Price for a 3 hours photoshoot
Those of you action-takers, who'd like to take full advantage of the pristine scenery of Bora Bora, and get as many pictures as possible, wait up! For you, we prepared a photoshoot package of three hours of shooting! This includes pictures of the two of you getting ready for your big event, ceremony pictures, and a full couple photoshoot after the ceremony.
You'll get your private online gallery, 150 edited HD pictures, and the possibility to pick the shots you'd like us to edit.
Our rates:
Resort rate: 135 000 XPF (around $1200) | Main island rate: 80 000 XPF (around $700)
In case three hours is still not enough time for you, don't worry! We also do custom packages that we can customize exactly to your wishes. For further information, see all the details of our packages here.
The best locations and prices for your Bora Bora photoshoot
As you may have noticed, there's a bit of a price gap between the prices of shooting in a resort and on the main island. Why does the photography in the Bora Bora resorts cost more than on the main island?
Price for a photoshoot inside your Bora Bora resort
Since most of the resorts are located on small islands (Motus in Tahitian), they can restrict access to everyone who isn't a guest. Including us the photographers, who must pay a significant entry fee or a commission up to 25%. Something that we call: 'The rules of the game'.
Yet, they're well worth the cost! The "Motus" hotels (all 5-star hotels) have endless possibilities for your wedding & honeymoon photoshoot. Just imagine escaping the crowds, and having the untouched white sandy beaches only for the two of you. Or how about jumping into a turquoise lagoon to trash your wedding dress, while getting mind-blowing pictures with the views of Bora Bora? Yes, and much more!
Price for a photoshoot on the main island of Bora Bora
Just so that the main island is cheaper, it doesn't mean it's less beautiful! It's only different and rawer. The only downsides of the main island's beach are that it gets crowded with tourists at certain times, it doesn't have the iconic view of the Mount Otemanu, and it's not as pure as the daily cleaned resort's beaches. Also, your options here are more limited because you don't have as many epic spots to pose as from the resort's areas. But it still makes a great option if you're on a budget! 🙂
If you still can't decide which option would suit you better, we have a whole post comparing the resorts and the main island. Feel free to read it here!

Don't let them fool you & go local for the best price 😉
Be careful when you choose your Bora Bora photographer and compare the costs. Watch out for the photographers who describe themselves as a 'Bora Bora photographer' on Google, yet in fact, some of them live on the island of Tahiti (or even abroad). This might add up an extra cost because you'd have to pay for their flight to Bora Bora, plus the accommodation, and some additional fees.
If you choose a local Bora Bora photographer, you can be certain, he knows the island as his home, and will take you the best locations for your photoshoot. In addition to that, you save money and the environment (by flying less)!
**When it comes to us, even though our website is called 'marcgerardphotographytahiti' we are well based living and working full-time in Bora Bora. We're sorry for the confusion.

The cost of drone photography in Bora Bora
Besides analog photography, drone photography is another popular trend in the wedding industry. We know many of you are interested in getting your pictures captured with amazing aerial footage, panoramic views, and obtaining that almost cinematic effect.
However, Bora Bora has very strict rules and requirements even for certified drone pilots. For global security and protection of the airplanes, it's forbidden to fly a drone anywhere in the central area of Bora Bora. In the resorts, it's totally prohibited for privacy protection. Not following these rules might result in $50 000 fine or even in punishment by one year in prison.
Your best bet to get some aerial photos is to rent a private boat, cruise off to a lonely Motus away from the Bora Bora airfields, hire a certified drone pilot and get your photos taken there. The price for drone photography starts at $800 and renting a private boat costs around $1000 for a two-hour trip.
How to choose your Bora Bora photographer and avoid the extra cost?
Lastly, we discuss how to choose the best Bora Bora photographer to suit your style, and how to avoid any extra cost.
Have a guilt-free Instagram jam
The first thing when choosing your wedding photographer is to know what photography style you fancy. If you have no idea, take your time and research some beautiful wedding photographs on Instagram, Pinterest or fashion magazines. Then narrow it down, and see if you can find a few photographers with a similar style to yours.

Check their 'street cred'
Next, check what do the other newlyweds say about them. What do they write in their reviews? Is feedback from clients positive? How did the photographers respond? How do they interact with their Instagram followers? Are they friendly and personable?

Open your evil eye
Now it's time to be a bit critical. Yes, another permission to feel absolutely no guilt to be critical & judge. When reviewing your photographers' album, ask to see the whole album and not only the highlights of the gallery. There, look for thoughtful compositions, good lighting, and crispness of the images. Did the photographer capture well the people's emotions? Can you see the small details?

Make sure he/she's a good match
Your photographer will be shadowing you for your whole wedding. He's someone you should trust and feel at ease with. To make your wedding & photoshoots fun and enjoyable, ensure yourself your personality match. To help you with that, just again, look at his interaction with the clients on his blog, Instagram, or best, message him and see how he interacts with you. 😉

Avoid extra costs
Once you have found your photographer, ask him for an all-inclusive price. This way you can prevent all those awkward misunderstandings when your photographer wants to charge you extra for entry fees, boat, or plane fees to reach the hotel.
This way we hope we gave you a rough idea on what to expect, and you know how much will your Bora Bora photographer cost. To have the best experience and enjoy your wedding in Bora Bora, just follow our tips. You'll get prepared, and you can be excited about starting your 'happily ever after' in a beautiful & serene environment!
Finally, let your photographer capture it all and help you remember this exotic occasion your whole life.
Have a beautiful wedding!