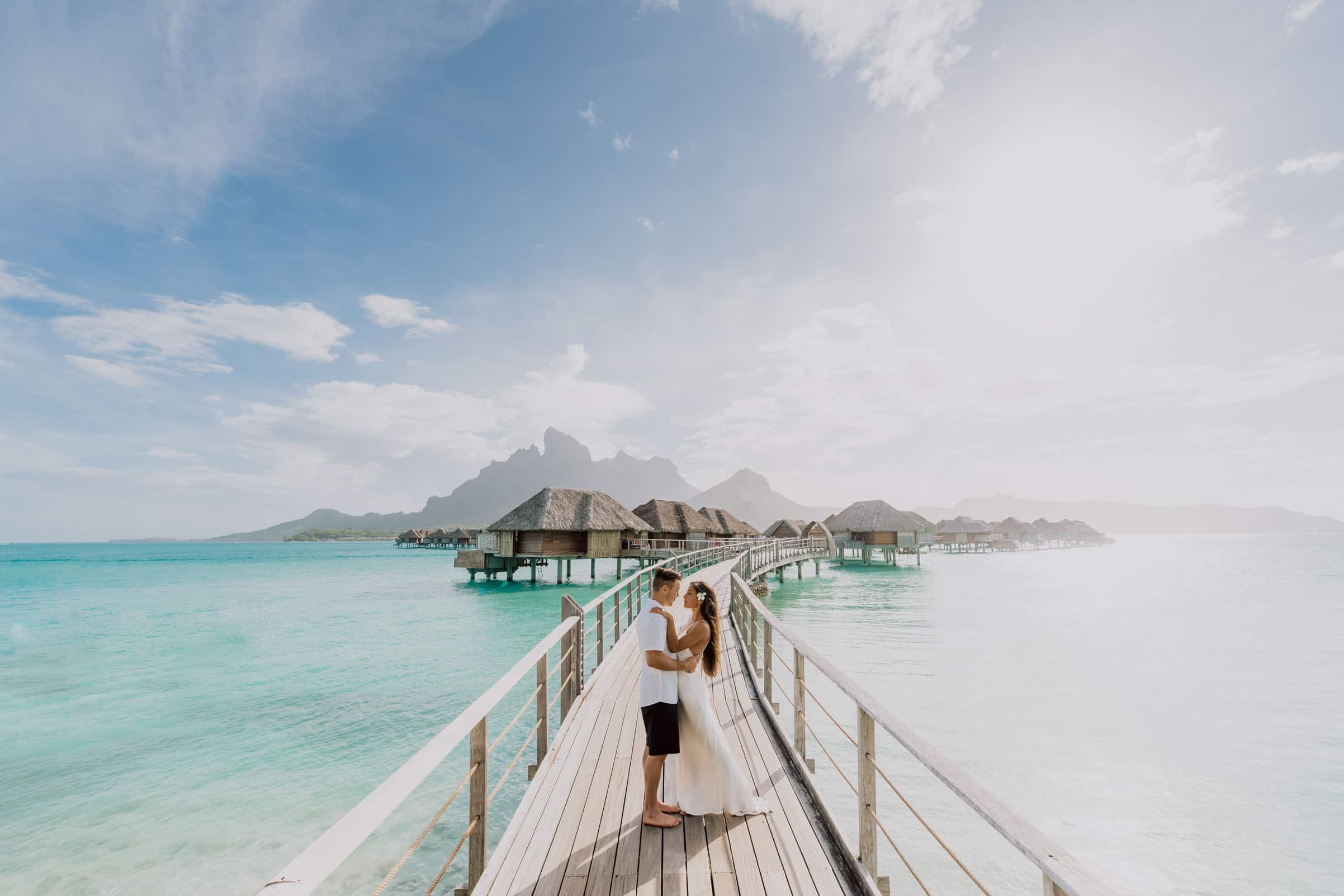 Bora Bora. One of the most famous destinations across the planet. The beauty of its lagoon and mountain is legendary and makes it a perfect destination for honeymooners looking for peace. Also one of the few places in the world where you can experience staying in a luxury overwater bungalow (yes, they have been invented here 😉 An absolutely exquisite place to enjoy quality time just the two of you, entwined and in love. And what's best to immortalize this time in paradise than a photoshoot in Bora Bora? The pictures will be your keepsake of the precious moments you spent together and you'll be able to feel these emotions over and over again while looking at them.
Now, you are probably wondering what are your options regarding the places to do your photoshoot in Bora Bora and where are the very best spots so you get the greatest pictures possible. Good news, you'll find below everything you need to know to make a choice.
Places for a photoshoot in Bora Bora : The options
First, please take a minute to check the map if you are not familiar yet with the geography of Bora Bora so you can understand the rest of the article a bit better 🙂
To be simple: Bora Bora has two sides. The main island, in center, and all the small islets around it (called motus in Tahitian).
On the first side, you will find the absolute postcard: the dreamy islets shaped by the hotel groups when even the smallest details have been taken care of so you feel in heaven.

On the other side the main island and the local life where the beauty of the island is less obvious, virgin, raw.
I am not here to take sides. However, I really want to help you make the right choice according to your aspirations to create the best memories possible of your extraordinary journey during your photoshoot in Bora Bora. Because Bora Bora is often a once in a lifetime trip that some people prepare for several years in advance. Its significant cost can hurt modest budgets. So now that you have the two sides in mind let's dig into the (legitimate) question that many of our clients ask us.
Why such a price gap between a photoshoot on the main island of Bora Bora and within our resort? The answer is very simple.
Photoshoot in one of the Bora Bora resort
Because luxury resorts are private properties and are located on the small islets (for most of them) they, therefore, restrict access to all external vendors such as photographers, who must pay a significant entry fee or a commission up to 25%**.
This is what we call "The rules of the game"… Yet, it's well worth the cost!
The "Motus" resorts (all 5-star) have endless possibilities for your honeymoon or wedding photoshoot in Bora Bora. It's a rendez-vous with beauty, where you can bask in the sun and leave with exceptional photos. You'll literally feel like arriving in paradise. Shooting in a resort guarantees that you will have a large variety of photos. The resorts have been designed by some of the best architects and landscapers. To sum it up, it's AWESOME!
Here is a (non-exhaustive) list of places where you can take photos:
✔︎ Overwater bungalows and their pontoons/terraces
✔︎ Unobstructed views of the mountain (Mount Otemanu)
✔︎ White sand beaches cleaned daily.
✔︎ Beautiful infinity pools with views of the lagoon and/or the mountain
✔︎ Hammocks levitating above the turquoise lagoon
✔︎ Tropical landscaped gardens
✔︎ Lagoons full of colorful fishes
✔︎ Props available (like a traditional canoe).
✔︎ There's even a mini golf at the Conrad, haha.
*Here is the list of the resorts located on islets: Four Seasons Resort Bora Bora, The St Régis Bora Bora, Conrad Bora Bora Nui, Le Méridien Bora Bora, Intercontinental Resort Thalasso and Spa, Le Bora Bora - Pearl Beach Resort, Sofitel Private Island.
** On the mainland you'll find the Intercontinental Le Moana & Sofitel Marara. Even if they are not located on islets it's still private properties so they do charge an entrance fee to grant access to the resort's facilities for a photoshoot.
Pictures taken during a photoshoot in Bora Bora's resorts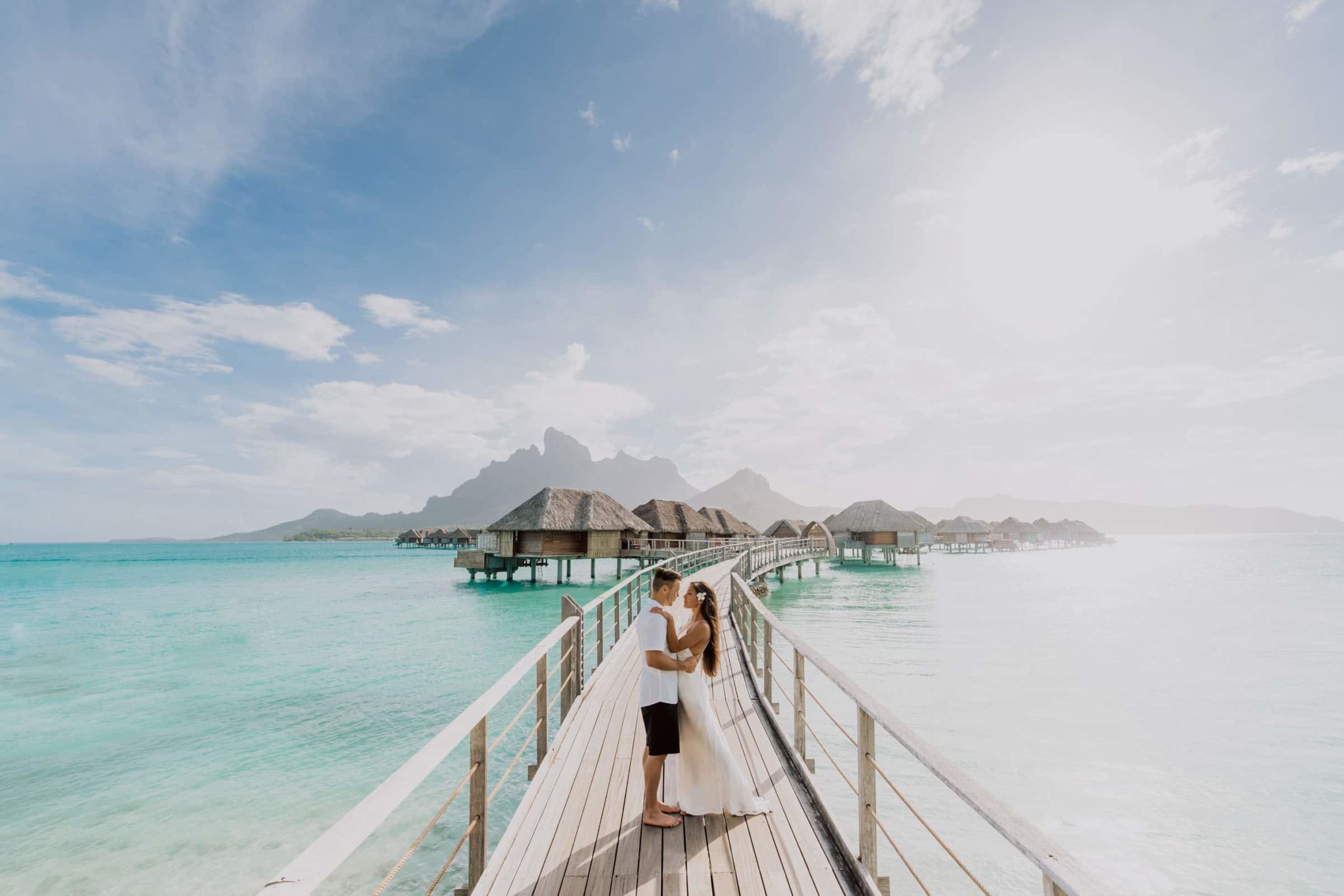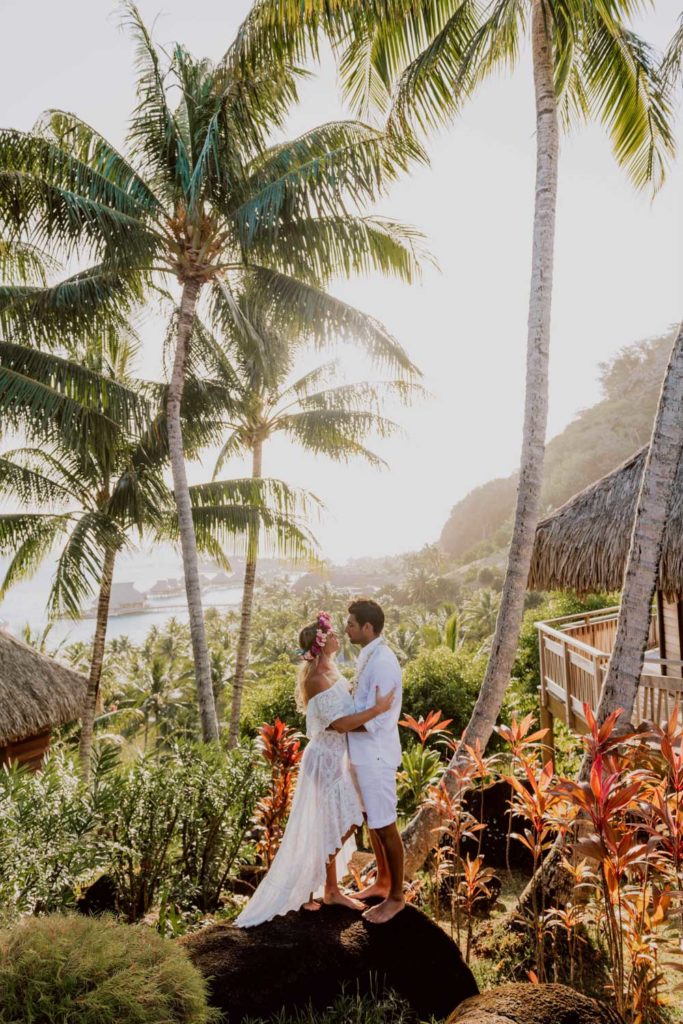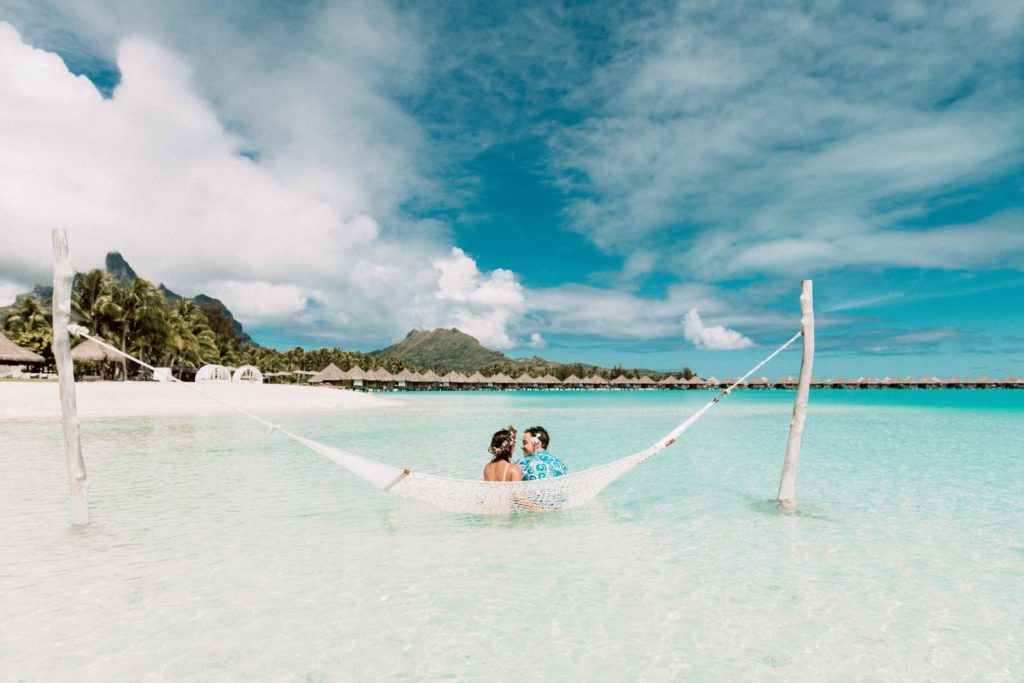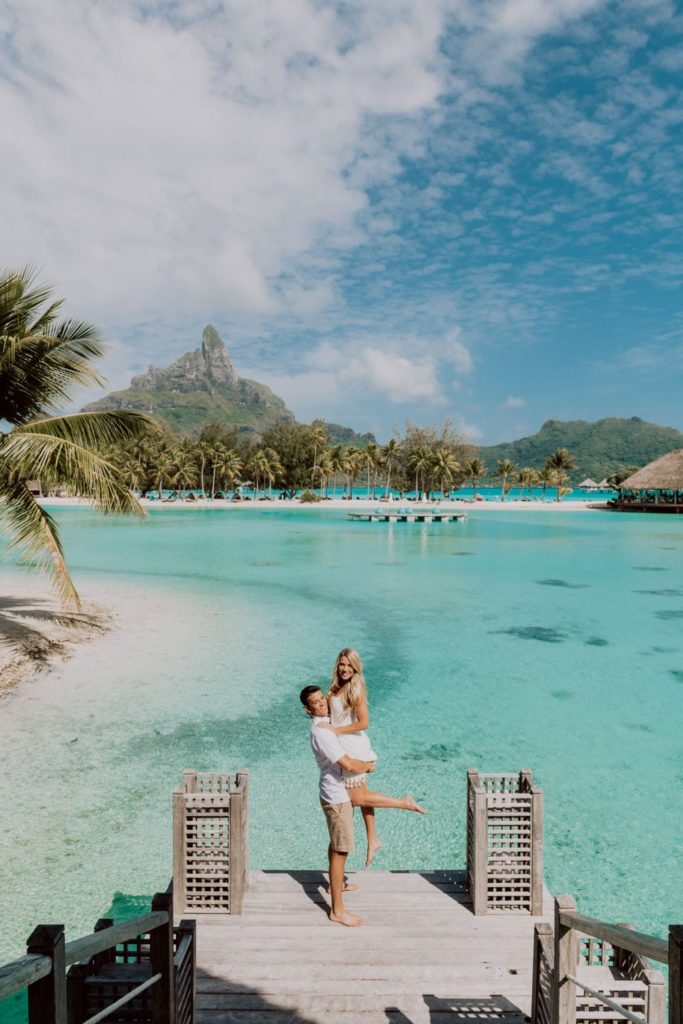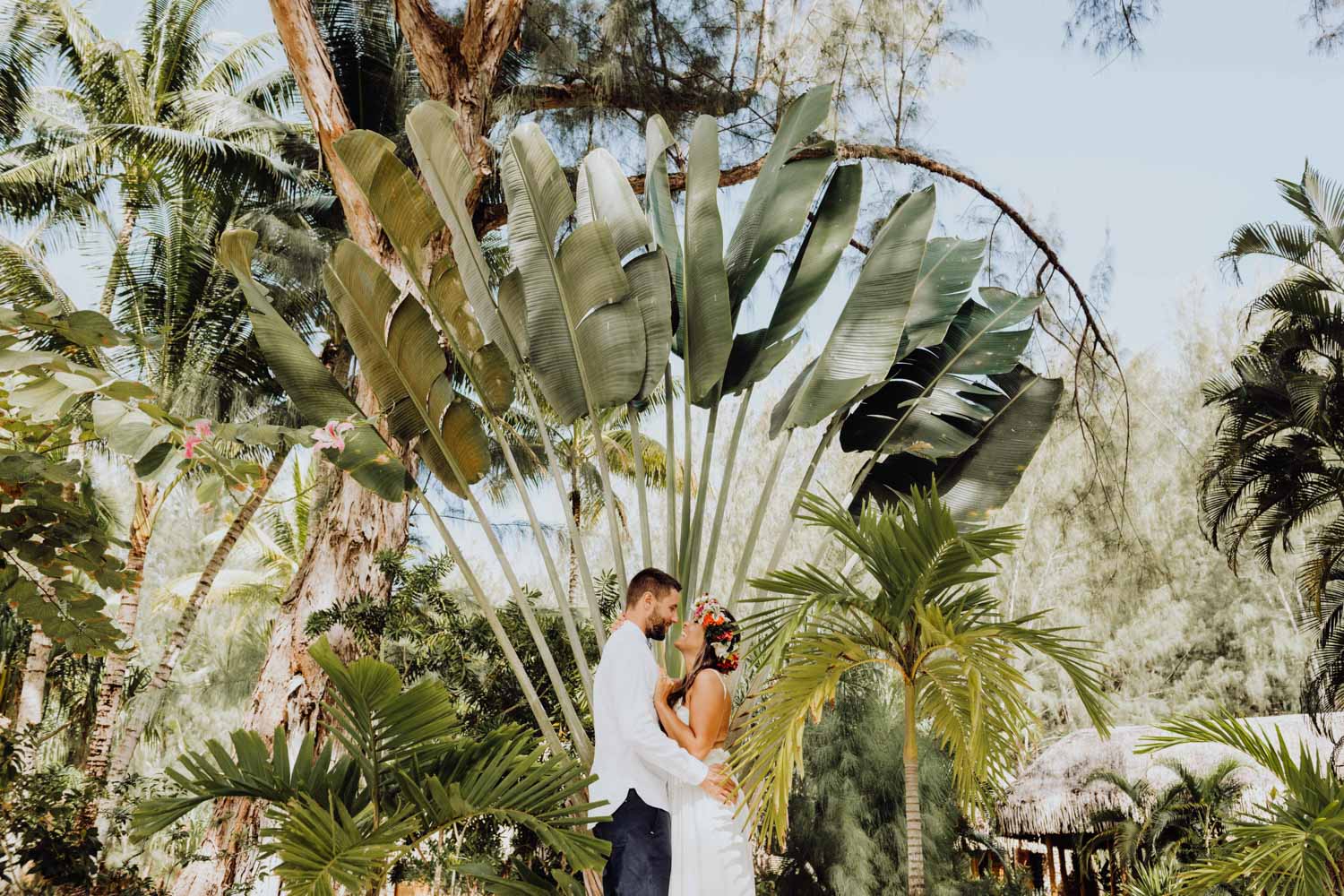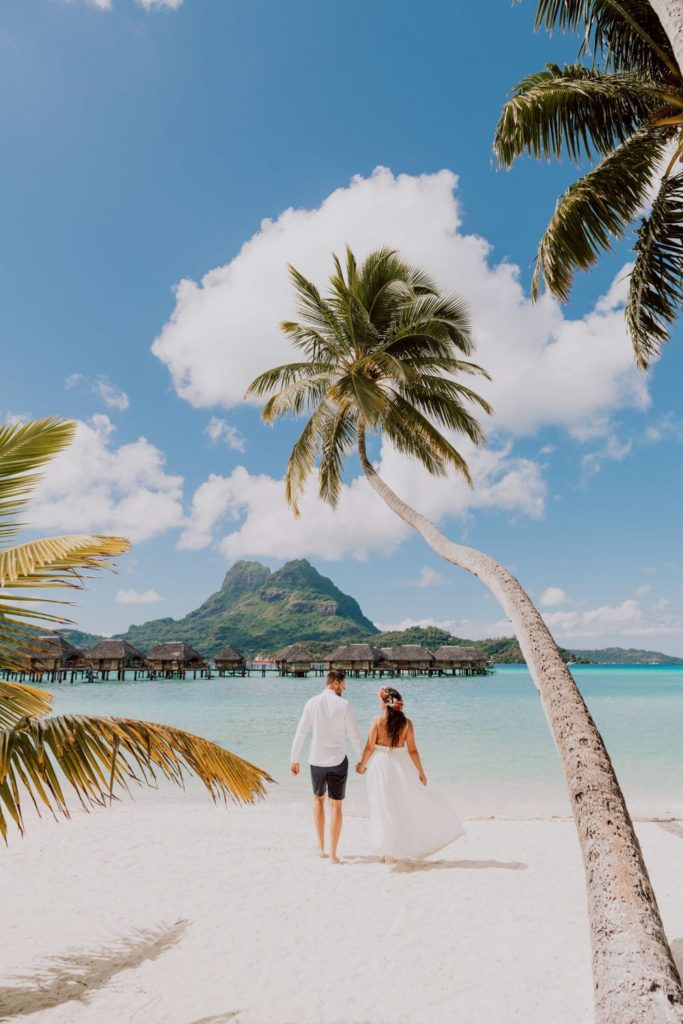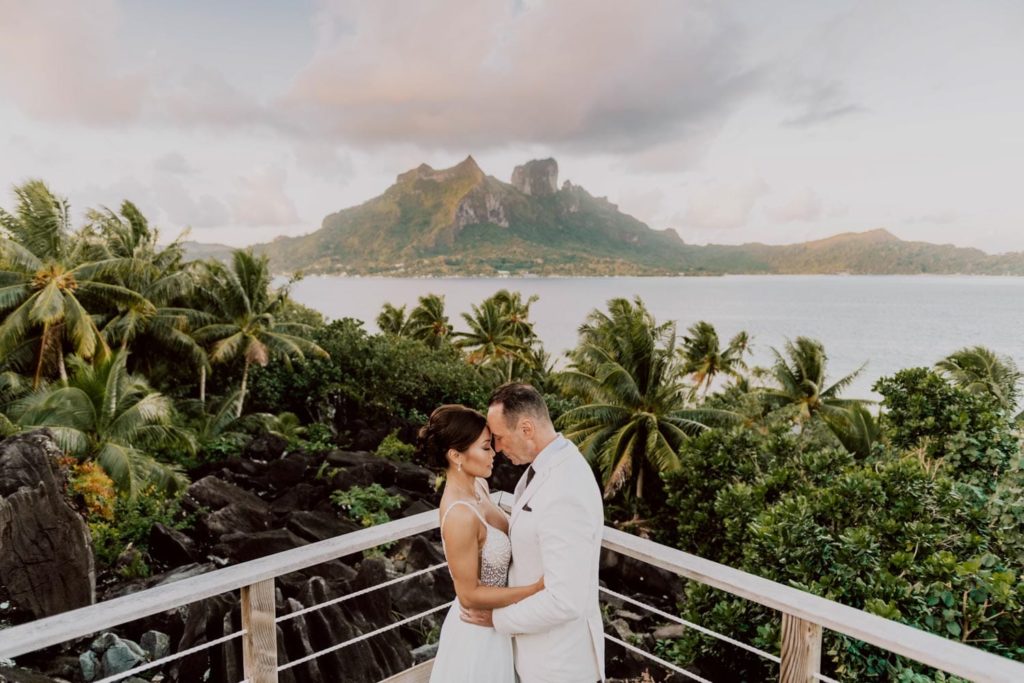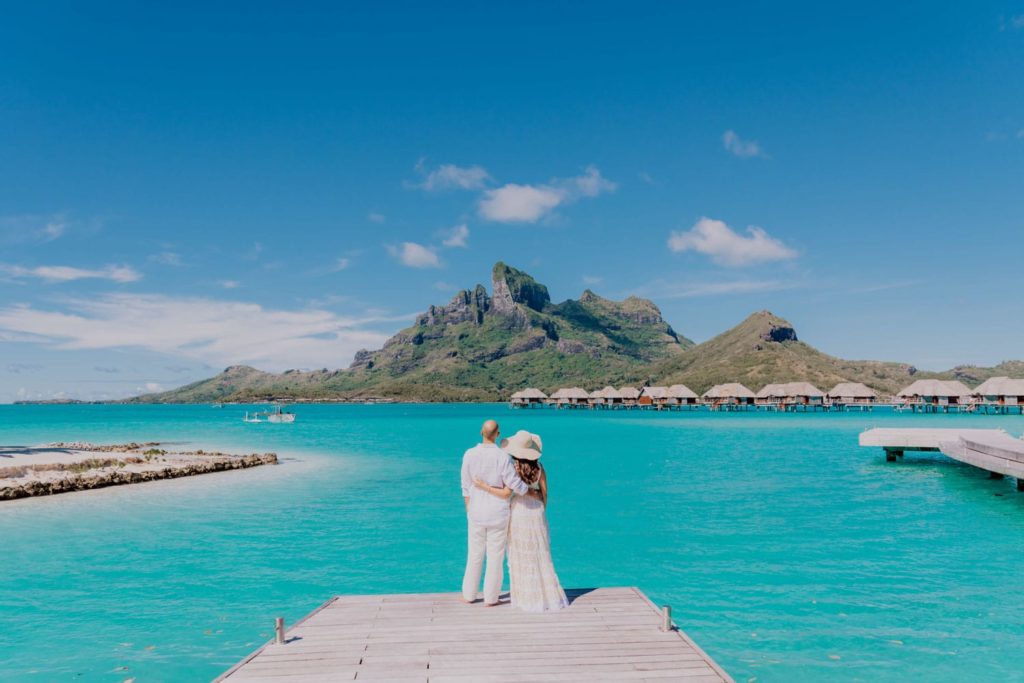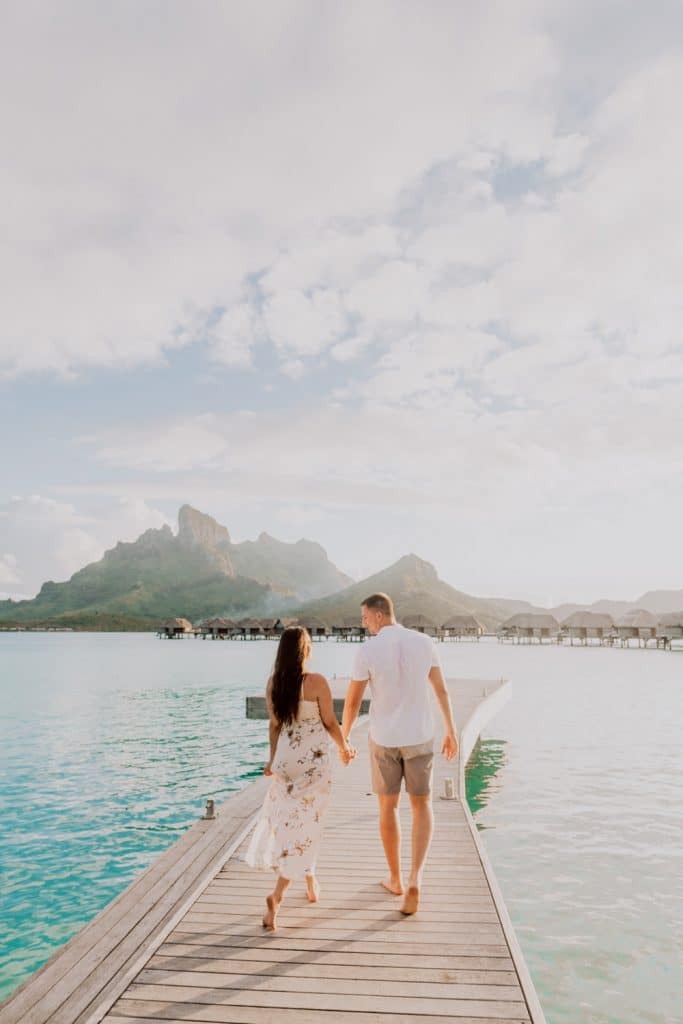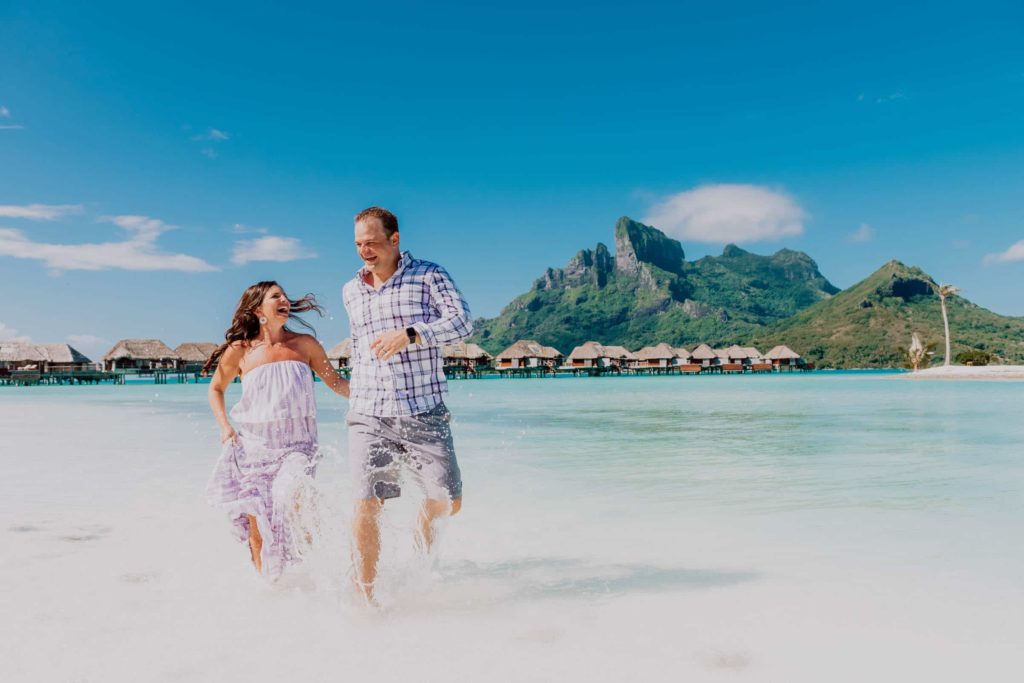 Photoshoot on Bora Bora main island
But don't get us wrong: Just so that the main island is cheaper, it doesn't mean it's less beautiful! It's only different, wilder, rawer. The only downsides of the main island's beach (Matira beach - the only public beach in Bora Bora) are that it can get crowded with tourists at certain times of the week, it doesn't have the iconic view of the Mount Otemanu, and it's not as neat as the daily cleaned resort's beaches (depending on the tide you can find some seaweed on it).

Also, your options here are more limited because you don't have so many epic spots to pose compared to the resort's areas. But it still makes a great option if you're on a budget!
Pictures taken during a photoshoot in Bora Bora's main island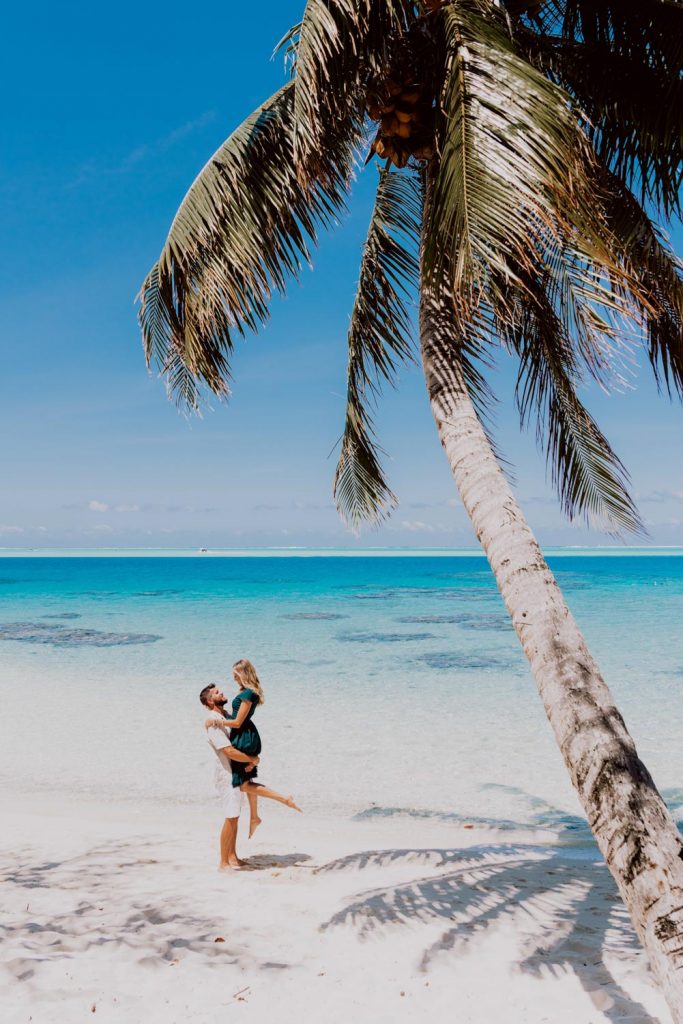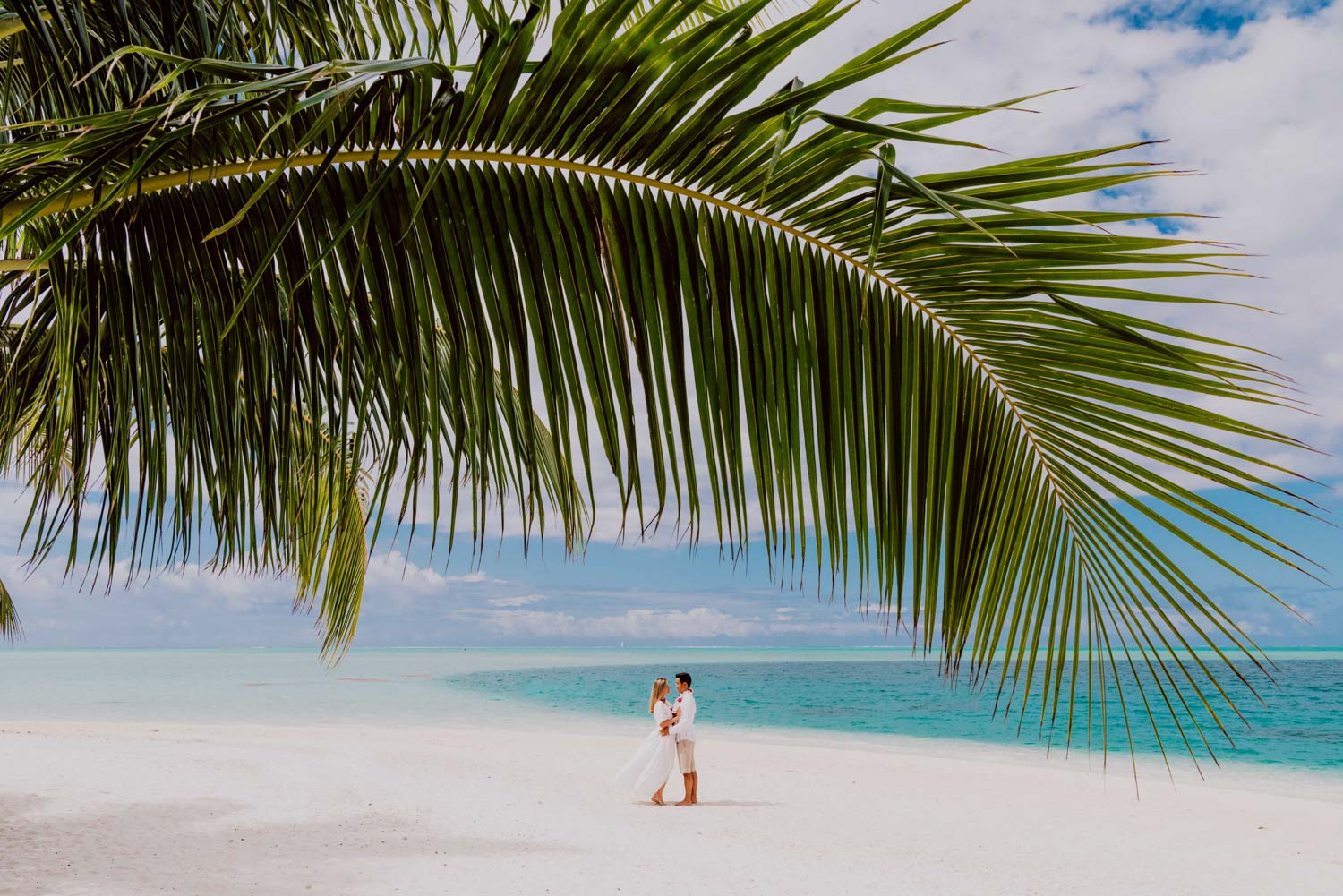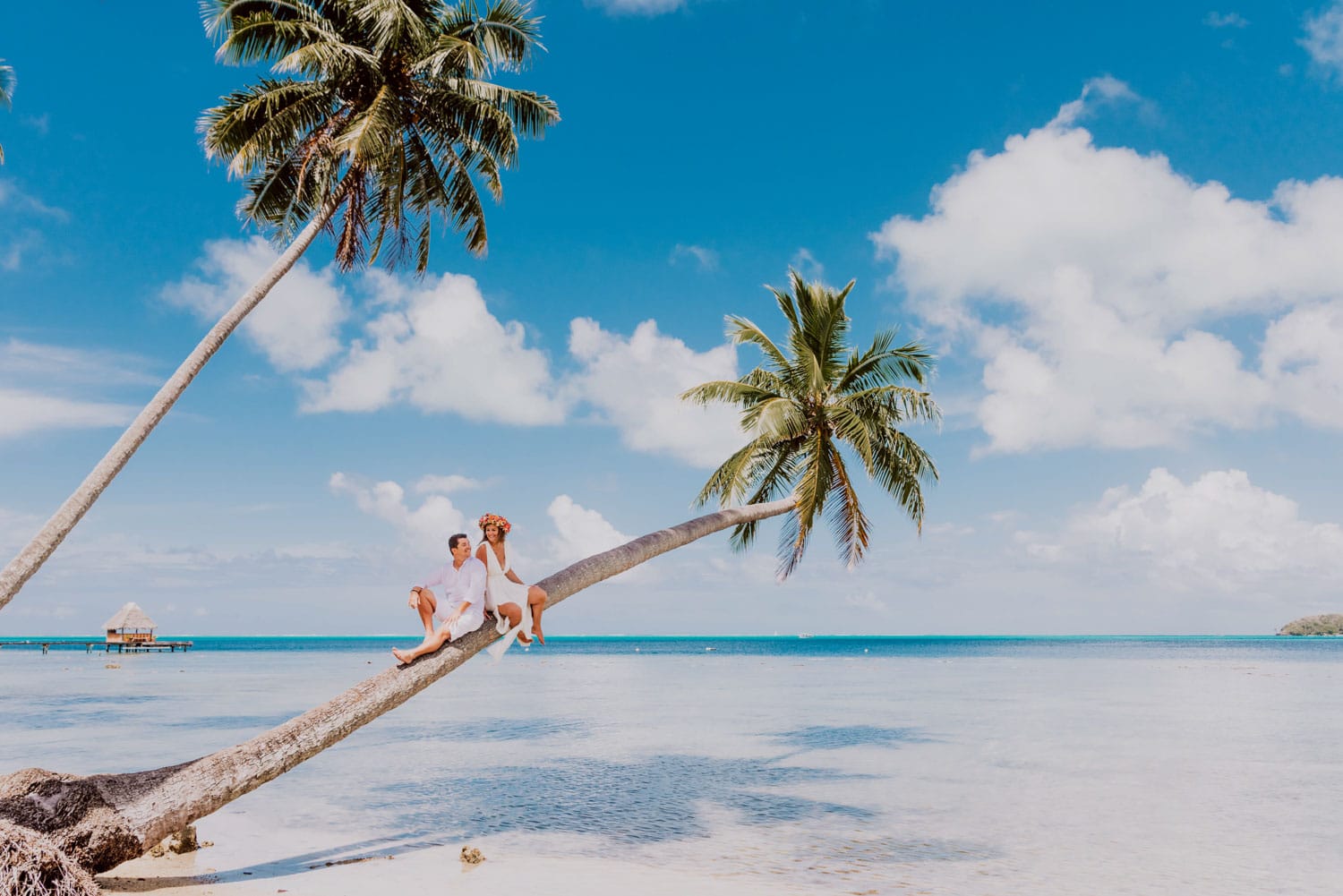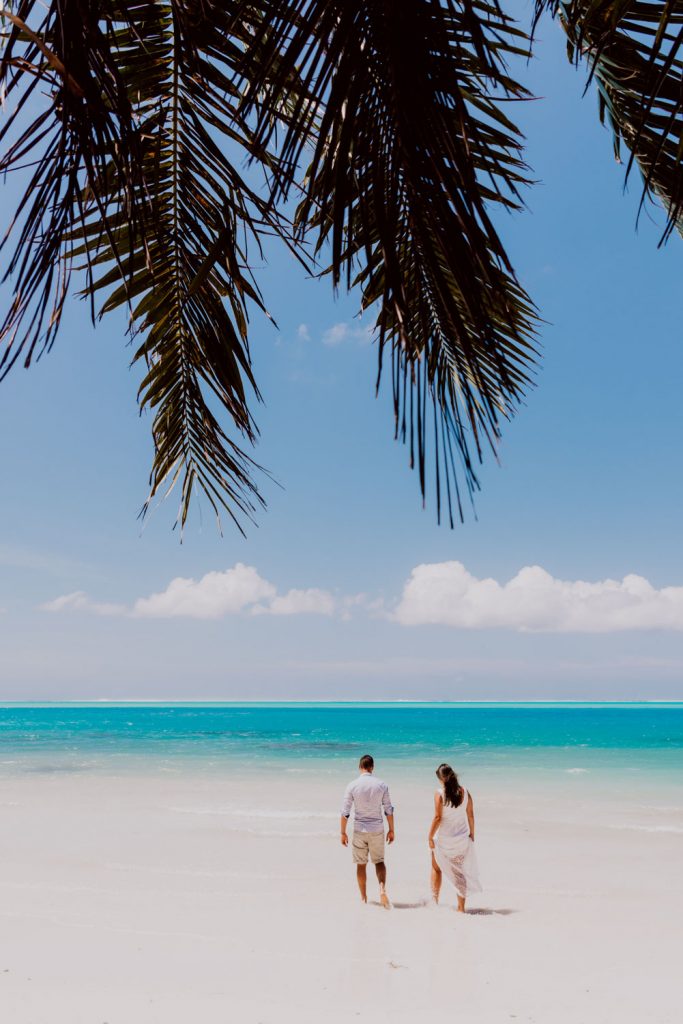 Sum up: Where should I do my photoshoot in Bora Bora?
Picking a resort for your photoshoot in Bora Bora: Pros & Cons
Pros :
Easier for you: You don't have to take (and pay) a taxi boat to reach the mainland
Lots of spots for an endless possibility of images
We get to shoot with the bungalows for real "postcard pictures"
Best views
Cons :
More costly due to the hotel fees
Picking the main island for your photoshoot in Bora Bora: Pros & Cons
Pros :
Cheaper, no hotel fees or day pass* to pay
You get to explore the main island with us 🙂
Raw beauty of the island
Cons :
You'll have to take a boat to reach the main island (can be expensive depending on the resort you are staying at)
Limited spots
No room to get change after the photoshoot (if you decide to get in the water at the end for example)
Pro tip : Use the resorts for your photoshoot with a day pass
So you are on a budget and staying on the mainland but still want to shoot in a resort for the best landscape?

There is a last solution: Booking a day pass

➡️ We explain everything about the day pass options in the resort in this dedicated article. ⬅️
You guessed it by now, it's easier to take advantage of the resort facilities to leave with beautiful pictures for your honeymoon photoshoot in Bora Bora. But no matter the place you'll pick we will always do our best to make your memories of Bora Bora beautiful and to help you leave with gorgeous pictures!
You now have all the information you need to pick the best place for your photoshoot in Bora Bora. We remain available anytime if you still have questions and we invite you to check our other articles you may find useful (Like "What to wear for my photoshoot in Bora Bora") 🙂