Are you hoping to elope in Bora Bora but not sure where to start? Is Bora Bora even right for you? If yes, what budget should you prepare? And who should you contact first?

Ughh, we've soo been there!

Planning your elopement can be stressful, overwhelming and super confusing. Don't worry though, you're in the right place now! In this guide, we explain EVERYTHING you need to know to fully prepare to elope in Bora Bora and stay calm.

Ready? Let's dig in!

Why elope in Bora Bora?
Most people choose to elope in Bora Bora for these reasons:

#1: Escape the drama
Forget the huge 'show-off ceremony' made to impress others & consume your entire life savings. The stress and worries of choosing who to invite and who not. The fear of not making a 'good enough' ceremony for your guests. Not to mention the pricey honeymoon as an extra cost. No, thank you, thank you!

In Bora Bora, it's about you. You, your loved one and your meaningful, loving time together. No. One. Else. ...Yes, you'll spend money but only on the two of you! Not the decor, food, and program for your guests. Just you.

#2: Wonderland wedding
Most couples (including us) love Bora Bora for its divine scenery & the extraordinary Polynesian wedding traditions. Here, you'll find everything from lush jungles, deserted white sand beaches, refreshing turquoise lagoons to tiny little private islands. Have you ever dreamt of an intimate elopement in a pure wilderness? Or a wedding filled with exotic dancers, musicians playing on a ukulele, a priest blowing a conch shell, and after-drinks served in fresh coconuts?

If your answer is 'heck yeah', then Bora Bora is your perfect choice. This island combines ancient traditions, untouched nature, adventure, luxury and most importantly, romance!

Yep, this little paradise or " the pearl of South Pacific" as they call it isn't easy to resist. 😉 And why should you? Let us help you make the whole planning process easy for you. So that you can start packing your bags, jump on a plane, and wake up in heaven with your loved one.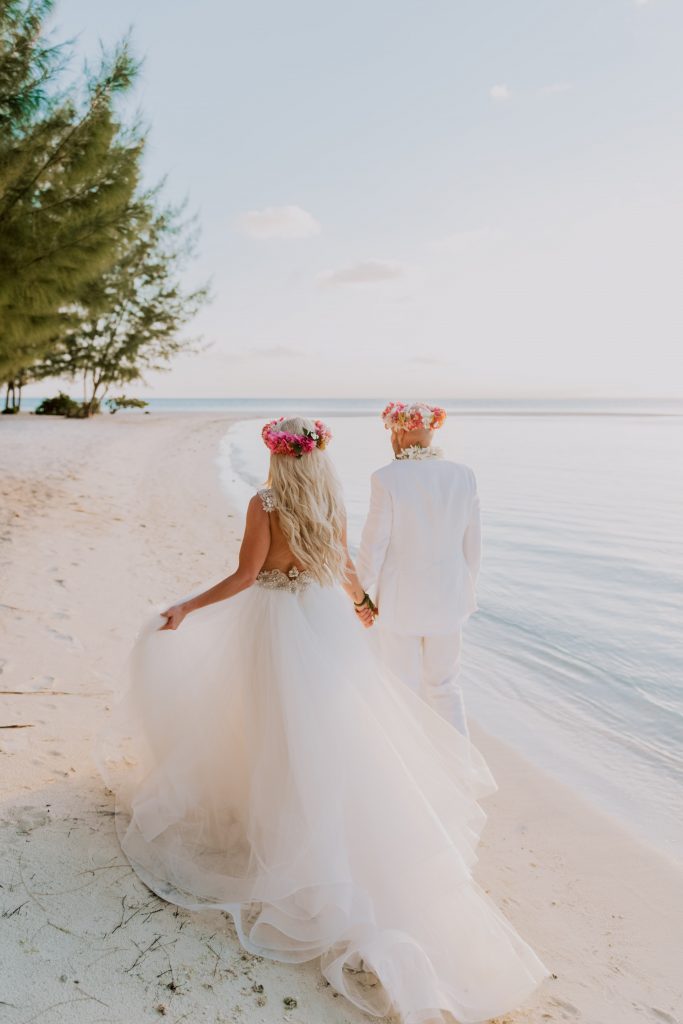 5 Steps to planning an intimate elopement in Bora Bora
First thing first…

1. Choose the perfect place & time for your epic Bora Bora wedding
To elope in Bora Bora, the first thing you should look at is the best spot and time. Although Bora Bora is famous for its gorgeous beach weddings, that's not your only option. You can choose anything from private island weddings, little chapel ceremonies to even hilltop ceremonies. The choice is all yours!

The most popular options are these:
Resort's beach
Oh, the famous resorts' beaches...You'll find weddings at these wonders all over Instagram. And rightly so! Each resort has its private beach area set aside solely for wedding ceremonies. They take excellent care of them and clean them daily. Perfect if you want to elope in Bora Bora in its full beauty.

During your wedding ceremony, no one is allowed to come anywhere near you. This ensures you have maximum privacy and no tourists accidentally ruining your wedding pictures. Here, it's only you and the people you choose to be around.

Chapel
Do you want to elope in Bora Bora yet you'd still like to keep it a bit more traditional? If that's your wish, a chapel might be a great option for you. Nested in the middle of beautiful nature (beach, jungle, or tropical gardens), a chapel is an amazing compromise between the western and Polynesian style of a wedding.
A white sand private island in the lagoon
Couples craving that extreme privacy, mind-blowing surroundings of swaying palms & the soft sound of the ocean will be stunned by one of Bora Bora's private islands. To get there you'll take a boat, and you'll arrive in wonderland. 😉
Hilltop panoramic views

In case a beach isn't your thing, you can elope in Bora Bora on a unique hilltop deck owned by Conrad Bora Bora resort. Here you'll say your 'I do' above lush gardens, with panoramic views of the Island, the huts, mt Otemanu, and the lagoon. Just a pure blissful place for your 'once-in-a-lifetime' experience and epic wedding pictures!

If you're interested to learn more about all the divine location possibilities to elope in Bora Bora, we share all about it in this post.

How about the timing? When can you elope in Bora Bora?
You can elope in Bora Bora legally anytime except Sundays or Public Holidays. However, you can have the traditional ceremony done every day 365 days/year. This gives you the absolute freedom to choose the date of your elopement.

Yet, money-wise & weather-wise the timing makes a huge difference. Bora Bora has three seasons and all of them influence your stay in various ways.

The dry season (June to October)
From June to October, it's winter and a high season in Bora Bora. During the winter the weather is hot with sunny days and blue skies (maybe with some quick showers). While it's quite unlikely to experience bad weather, the prices at this time get higher making it more expensive for you to elope in Bora Bora.
The wet season (December to March)
During the wet season in Bora Bora, the weather is very hot & humid. You'll still get many beautiful days but with more frequent showers. Thanks to the not so optimal weather conditions, the prices drop down too and you can elope even on a lower budget. So, if you find your potential wedding in the rain romantic, you have nothing to lose! 😉
The shoulder season (April, May, and November)
The secret to a sunny wedding on a lower budget? The shoulder season! If you're flexible with your time, our recommendation for you is to elope in Bora Bora during this time. While we can't guarantee you the 100% beautiful weather, most likely you'll experience plenty of sunshine with some occasional innocent showers during your stay. This occurs on each side of winter during April, May, and November when the weather is changing. We prefer this time because it's still low season, everything is more affordable and the weather is juuust amazing.
2. Pick one of these exotic Bora Bora resorts
Once you know the type of your desired wedding and the best time to book it, you can move onto the next exciting step! Research which resort offers your dream wedding and choose from there. Here, we summarized all the info on what makes each of the most popular resorts unique.

Four Seasons is one of the most famous resorts for an intimate elopement in Bora Bora. With 5 stars and an "excellent" rating on Tripadvisor, 5-star review on Tahiti.com you can't go wrong by booking your stay here. As a resort, they offer you the Bora Bora's highest luxury & comfort consisting of the peaceful overwater bungalows with their private plunge pools, exceptional views of the lagoon or Mount Otemanu and walls made of volcanic stone. To elope in Four Seasons you can try their specialty - a wedding on a tiniest, most enchanting island you'll ever step your foot on. Here you'll enjoy the views of crystal clear waters, mystical Mt. Otemanu, and a glowing sunset during your ceremony. To learn all about their wedding options, visit their website https://www.fourseasons.com/.
And for the top locations for a photoshoot we invite you to have a look at this article: https://marcgerardphotographytahiti.com/photoshoot-at-the-four-seasons-bora-bora/

Get blown away by the 'Paradise Perfected' at St Regis Resort. Here, you'll be treated with a wedding on a private island with a Spa, a Lagoonarium (protected underwater sanctuary for myriad species of tropical fish and coral), a fitness center, and a swim-up bar. Plus, the cutest staff on the island providing you their excellent service! And if you feel like fully immersing yourself in the Polynesian culture, at St Regis you can elope in Bora Bora's traditional Polynesian outfits. Could this get any better? Well, it's for you to find out. Check out their website here and their Tripadvisor reviews here.🙂
And to discover the top locations for a photoshoot we invite you to have a look at this article: https://marcgerardphotographytahiti.com/photoshoot-at-the-st-regis-bora-bora/
Conrad (4,5*)
Another popular resort in Bora Bora, Conrad Bora Bora Nui as said in Telegraph magazine is the 'computer screensaver come to life'. Here you can choose from the ceremony on the Bora Bora's longest white sand beach, in their hilltop chapel with an unrivaled view, in the privacy of your overwater villa, or our suggestion - on their exclusive islet Motu Tapu. Although Conrad Bora Bora Nui has half a star less rating on Tripadvisor, 95% of couples eloping Conrad were amazed by this place. If you're still unsure whether this is a resort for you, you'll find all of their packages & options on their website.
To discover the top locations for a photoshoot we invite you to have a look at this article: https://marcgerardphotographytahiti.com/photoshoot-at-the-conrad-bora-bora/
Would you fancy spoiling yourself for a cozy elopement in the most romantic overwater chapel? Well, in Le Meridien you have a chance to do so! Overwater chapels and weddings planned by 'romance specialists' are their unique features. Also, if you're animal lovers and eco-warriors you'll love visiting their turtle sanctuary & ecological center after your official 'I do'. If you want to elope in Bora Bora in Le Meridien, make sure to read some of their almost only 'excellent' reviews and check out their wedding packages.
That sums up your options from the best and our 'personal favorites' resorts. But what if you want to elope in Bora Bora on a low-budget? Is that possible? Of course it is!
Main island elopement (the cheaper option)
Surprise, surprise! You don't need a resort to elope in Bora Bora. Yes, resort stays have their magic but don't let their price stop you from celebrating your love in a paradise. On the main island's beach (which isn't private yet still gorgeous), you can organize your ceremony on a lower budget. Book your Bora Bora wedding early in the morning, and you'll easily avoid the crowds too. To help you organize your elopement on the main island, we recommend you contact the Maohi Nui crew.
Are you already excited to elope in Bora Bora and start planning the details of your wedding? Awesome! Now's the time to contact your wedding planner. Depending on your resort of choice, each of them has their expert wedding planner (or 'romance specialist') that will assist you in making your dreams a reality.

In most resorts, you either get a private lovely ceremony with only the two of you and a Tahua (Polynesian priest) or a full-blown wild Polynesian wedding. Here you'll be involved in the fully traditional ceremony enriched by ukulele musicians, Bora Bora dancers, and all the unique wedding rituals.

Otherwise, in case you'd like a resort wedding with your personalized texts expressing exactly the things YOU feel, with your unique stories, contact Nelly from Wedotahiti.com. You'll share with her your precise texts, revealing the things true for you, and she'll deal with the rest. She'll handle for you all trouble of writing, administration and dealing with the resort wedding planners. Amazing, right?!
4. Time to pack and get ready to elope in Bora Bora!
Yay, you're almost there! If you chose your ideal time & place to elope, resort that offers it, an amazing wedding planner who'd organize it for ya, then the rest is just to jump on board and wake up in wonderland. 😉

To travel to Bora Bora from your country you'll have to take a flight and book your accommodation. You can either plan this DIY or pay a travel agent to do it for you. However, since nowadays organizing your travels couldn't be easier, we recommend you do this yourself and save the $$ to yourself. Later on, you can indulge in some extra spa treatments, romantic dinners or adventure trips.
How to organize your trip to Bora Bora
To organize your trip, just hop on Skyscanner, pick your date & time, book the flight most convenient for you, and you're good to go! For accommodation, our tip for the best deals is to book through the resort's website. If not, try booking.com or agoda.com.

Also, don't forget to check Bora Bora's visa requirements for your country. You may need to apply for it either online, in the embassy of your home country or get it upon arrival. These requirements change from country to country so make sure to check specifically for yours.

The final thing it's health insurance. Yes, Bora Bora is very safe with minimum risk of danger but you never know of what strange coincidences may happen. The last thing you'd want is to get injured and pay more for healthcare than the whole holiday. Get insured and stay stress-free & safe.
5. Get gorgeous wedding pictures from your Bora Bora photographer
The final step? Your Bora Bora wedding photography! You've put so much effort, money, and time into creating a gorgeous elopement escape and celebrate your love. Yet, once this is over, all you have are your beautiful memories and photographs.

Our advice is to find a professional Bora Bora photographer that inspires you, can capture your real emotion and document the genuine beauty of your wedding. This way you'll remember these moments for a lifetime, and can share it with all your friends, family, kids or even grandkids one day.

If you're interested you can have a look at our Bora Bora wedding pictures and see if our photography collection might be a good fit for you. For more information about the photoshoot process and our approach, see this page and our great reviews.
Everything else you need to know to elope in Bora Bora: FAQ
Budgeting 101: How much does a wedding in Bora Bora cost?
Briefly, you can expect the cost to start at 3000 USD per person. However, this depends on your preferences, resort, wedding package, season and how many extras you'll want.

Here are some helpful links to to the resorts' wedding packages and their cost:
Can you legally get married in Bora Bora?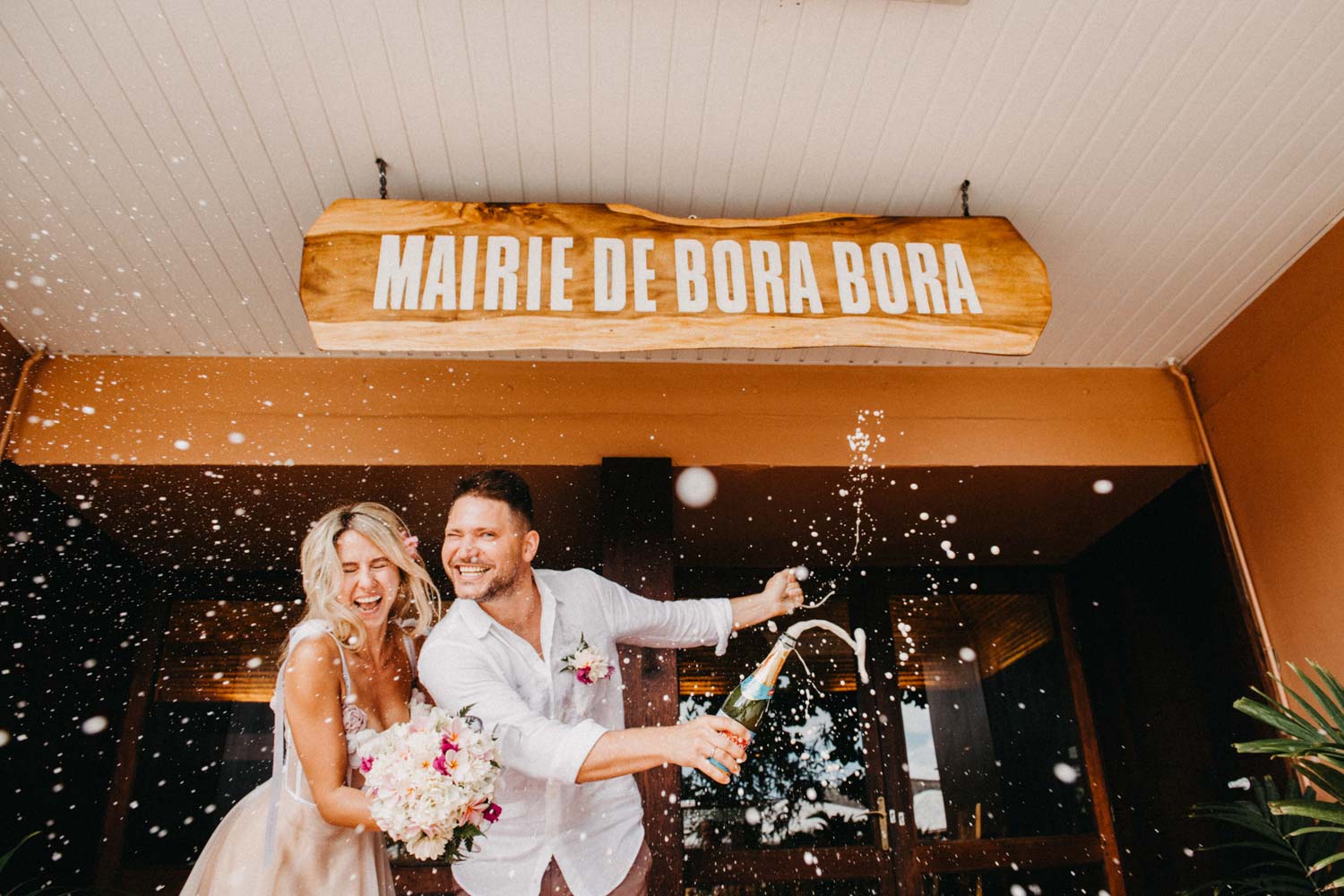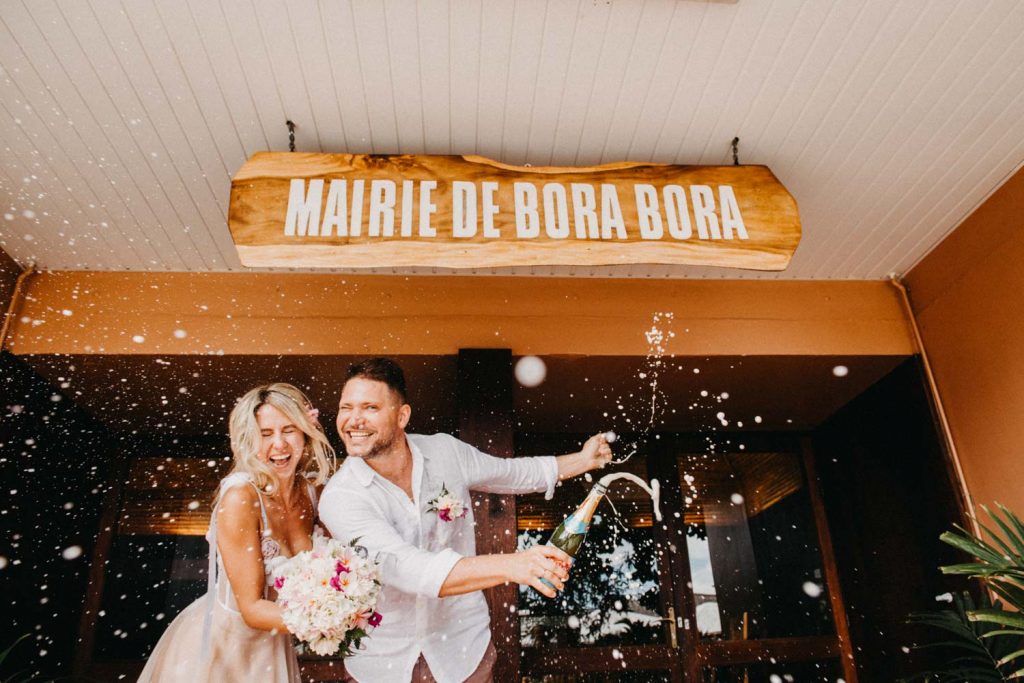 Yes, as long as you're not French citizen you can legally get married in Bora Bora. For our Frenchies, we're sorry and we know this information might disappoint you. But the good news is you can still get the traditional ceremony and exotically celebrate your relationship.

For more information about the legal issues, we wrote a full post for you here.
How to get those Insta-worthy Bora Bora wedding pictures?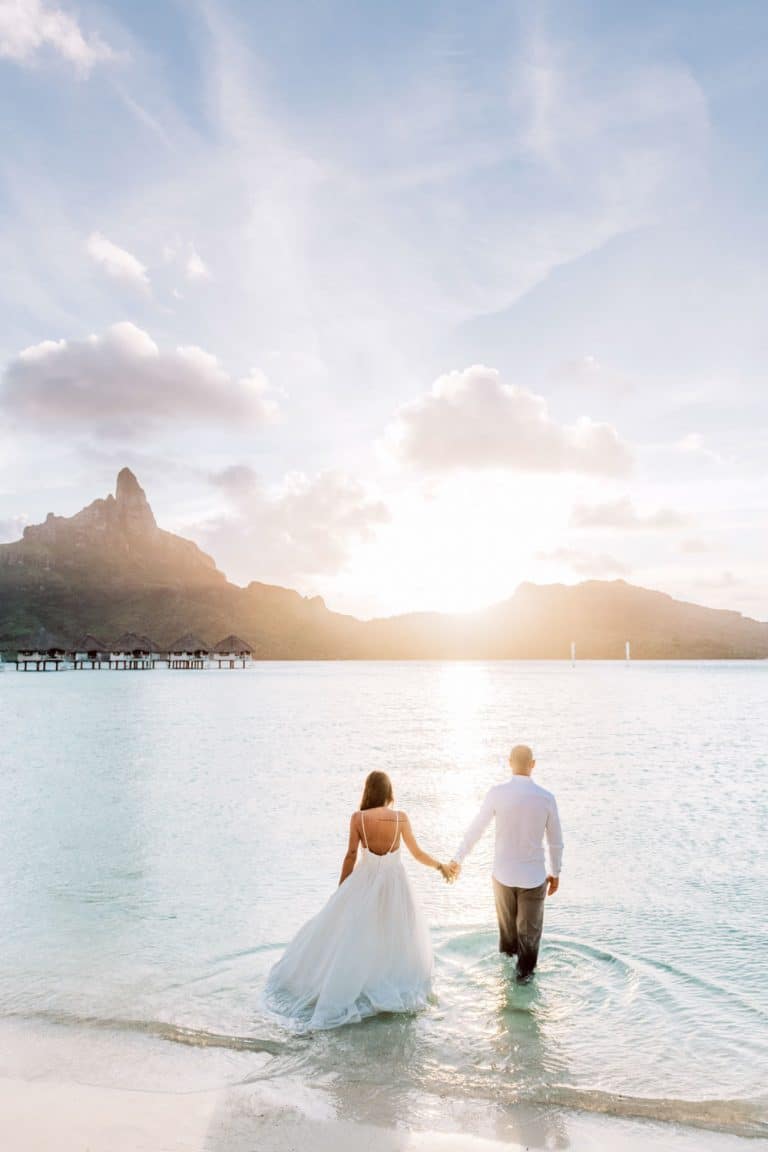 For those epic Bora Bora wedding pictures that go viral on Insta, our tip is to find a professional Bora Bora photographer that fits your style, can make you feel at ease & natural during your photoshoot and will assist you with your poses. Because everyone can be a stunning looking model! You deserve those gorgeous photos worth sharing, making some people proud and some jealous. 😉
**If interested, see our portfolio here.
By now we hope you're ready and you can't wait to elope in Bora Bora!
Do you have more questions? Feel free to comment below or message us directly to our email inbox here. We'll be happy to respond and clarify any confusion you might have about your elopement in Bora Bora.

We're looking forward to seeing you in paradise!