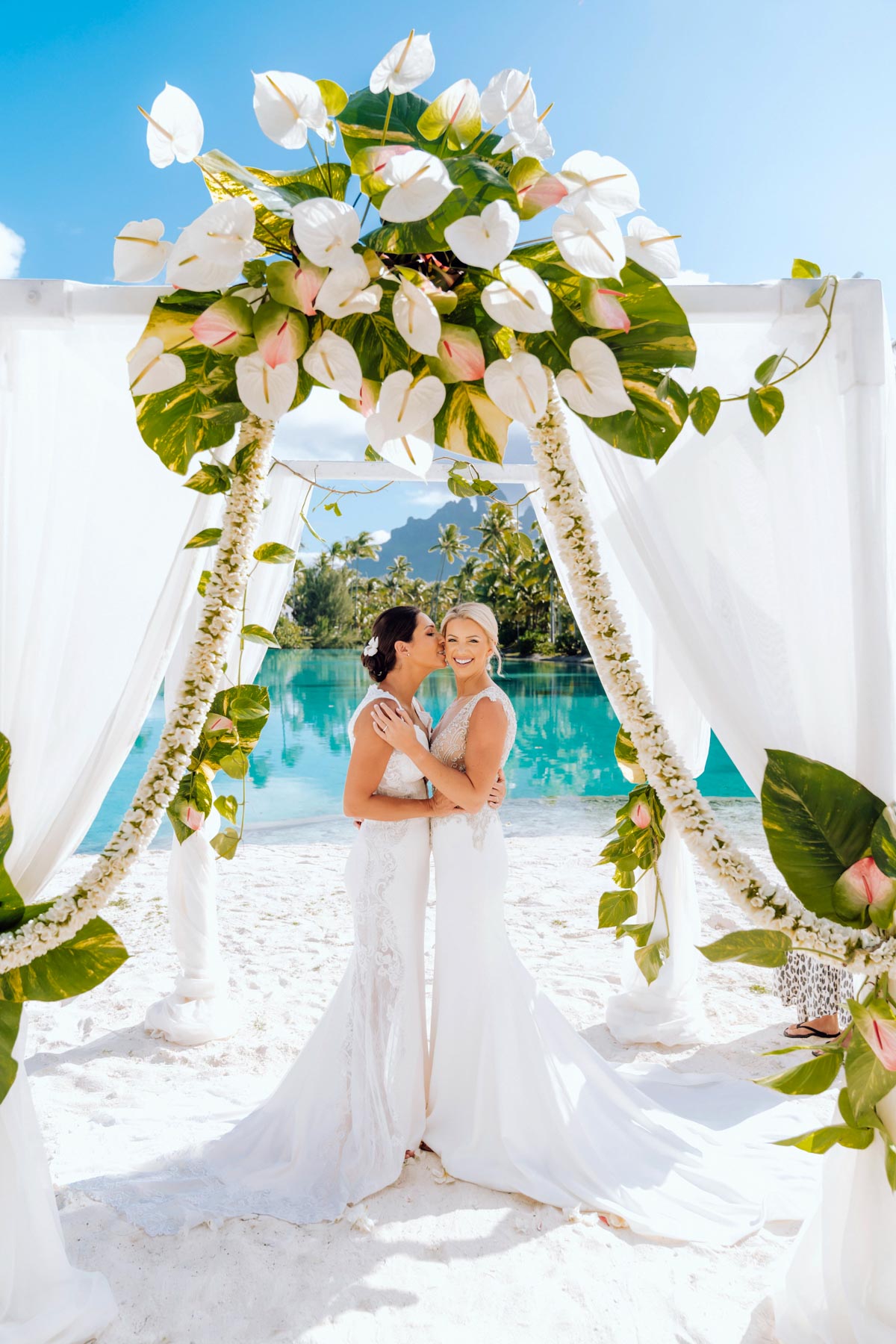 One of our favorite weddings of 2020!

Ashley & Lauren decided to elope in Bora Bora. But then, well... COVID!! They decided to maintain their elopement in Bora Bora no matter what and we met them in September, a few weeks after the border re-opened. Here is the story of their wedding in Bora Bora.
Ashley & Lauren, how did you met?
Like many couples we know we met online 🙂
Who proposed and how?
I (Ashley) proposed to Lauren while on a private sunset catamaran cruise in the British Virgin Islands. Romantic right? 🙂
Why did you decide to elope instead of having a wedding in the States? What challenges did you face?
We decided to elope in Bora to insure that day was about us and us only. We do love our family and friends but we didn't want any distractions or have to worry about anyone else other than ourselves on our special day. And our biggest challenge was, of course eloping in the middle of the COVID-19 pandemic (lol).
What made you pick Bora Bora for your elopement?
Bora Bora is one of the most beautiful places we have seen in pictures and has been a bucket list travel destination for us for years. That's why we thought it would be the perfect place to get married... and it did not disappoint!
What was your favorite part of your wedding day in Bora Bora and why?
Being able to stand up in front of each other, look each other in the eyes and say our vows of commitment knowing that I was not only marrying the love of my life but my best friend as well. That was very powerful.
Any interesting facts about your wedding that you'd like to share?
We weren't very traditional when it came to getting ready for our wedding. We actually went wedding dress shopping together and picked out our dresses with each other. We stayed in the same room together the night before the wedding ceremony instead of sleeping separately and we actually got ready (hair and make-up) together the day of our wedding. We wanted our wedding to be about us and make it what we wanted so we broke the traditional rules and enjoyed being with and supporting each other through every step of the process.
Let's talk about fashion! What designers did you pick for your wedding dresses.
Lauren wore Kitty Chen and I (Ashley) wore Soterro & Midgley
Do you have any advice for couples planning their elopements in Bora Bora? 
Do a lot of research, use wedding planners on-site, ask for lots of pictures of the location and decor, and ultimately, don't settle for anything less than what you want on your wedding day. This is one of the most important days of your life so make it about you and try to tune out other people's input that isn't needed or wanted. Remember that this special day is about you as a couple and you are the ones making the rules!
Venue, decoration & planning : St Régis Bora Bora 
Photographer : Marc Gérard